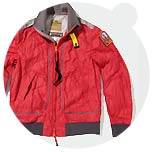 PARAJUMPERS
spring/summer 2009
Inspired by a Life Saving Team
The Italian sportswear brand Parajumpers - inspired by an Alaska rescue squadron - presents in spring/summer 2009 for the first time Windbreaker jackets made of an innovative material which has a metal component (8%) that gives the fabric a special "memory" effect.
Designer Massimo Rossetti about his inspiration for the Parajumpers pieces:

"The men of the 210th Rescue Squadron, based in Anchorage, Alaska, are unarmed and highly trained for extreme rescues and recoveries in the wildest, most remote and hostile corners of the Globe. Whether it be ships adrift at sea, rock-climbers stuck atop a 4,000-meter peak, or submariners sunk at unimaginable depths, these men are called to intervene. They are the PJs - short for PARAJUMPERS. Tough and courageous, they are better trained than any other military corps, but most important, they use their skills and techniques to save lives, not to destroy them. Their motto is: 'that others may live'."
Massimo Rossetti is the designer and researcher of this North American style (US, Canada). Rossetti has criss-crossed North America hundreds of times over the last 35 years by motor bike, Greyhound bus, car, train, plane, not to mention some wild rides while hitch hiking in the legendary trucks. During these travels he learned to understand North America's clothing styles for work, leisure, sport and, particularly, the military.
Massimo Rossetti has made a substantial contribution to the development and spread of sportswear fashion in Italy. He introduced Italy to brands such as Woolrich, Avirex, Timberland, Vans, Tony Lama, Nike, Barbour, Husky etc. His ideas gave birth to brands such as WP and Museum. He has designed sportswear collections for the most famous Italian brands such as Valentino, Ferré, Coveri, Allegri, Hogan, Fay, Benetton, Stefanel, Canali, Martin Guy, Converse All Stars, Mason's, Malo Tricot, N.Y. Industrie, Husky, Ball ... He has worked with Adriano Goldschmiedt and Renzo Rosso in Italy, with Woolrich, Pendleton, Alpha, Crescent Down, Spiewak and Sons and Avirex in the U.S.A., with Canada Goose, Churchill and Woods in Canada.
For Massimo Rossetti's latest creation - the highly technological outwear brand Parajumpers - the designer was inspired by a serving member of the 210 Rescue Squadron in an ill-famed bar in Anchorage, Alaska.
Since 2005 the company Ape & Partners are producing and distributing the brand. Today the Parajumpers collection is available at Fred Segal in Los Angeles, Bloomingdale's in New York, in Paris, Brussels, Tokyo, Monaco, Berlin, Amsterdam, etc. www.parajumpers.it.

more fashion.at/mobile>>>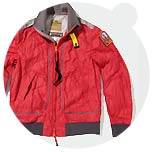 fig.: Windbreaker by Parajumpers, Spring/Summer 09. Made of 66% Nylon, 26% Polyester, 8% Metal; waterrepellent. The jacket's collar fastens with a hook used in parachuting.On the front lies a large, zippable multi-cargo pocket containing a further three pockets designed for carrying accessories, such as ipods, GPS devices, mobile phones, etc.