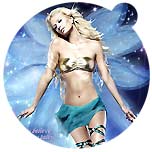 FAIRY DUST by PARIS HILTON
fall/winter 2008


Dreams can come true
In October 2008 the new Paris Hilton fragrance "Fairy Dust" will arrive in the shops in US; in 2009 worldwide. The concept of the fragrance is to invite women to realize their dreams; and every woman has thousands of dreams.
Paris Hilton, a role model for many young women, was chosen as inspiration for one possible and very prominent fairy tale life in a fragrance. Fairy Dust is easy to wear: "... delicate in the morning, sensual during the day and seductive in the evening." says Paris Hilton of her playful fragrance.

The bottle
Paris Hilton inspired even the design of the clear glass bottle. Capped with a brilliant dash of turquoise glowing within a faceted 'crystal', the transparent bottle expresses the delicate poise of a dazzling fairy.
Notes
Top> floral notes of Pink Peony and Orange Blossom over the radiant effervescence of sparkling Prosecco Accord
Heart> a bouquet of spring Gardenia and Water Lily presents itself and Peach Nectar adds warmth to this expression of playful femininity
Base> an alluring blend of Vanilla Créme and Cashmere Musk wrapped around a rich and woody Sueded Patchouli
The perfumer has fulfilled her personal dream
A woman who has fulfilled one of her dreams is the perfumer of "Fairy Dust" Cécile Krakower. The half French, half Vietnamese, born in Marseille, France, is a mix of culture and talent: her father a musician, her mother a sculptress, her uncle a photographer, one sister a soprano and another make up artist.
Her environment gave Cécile at the age of 7 the inspiration to express her creativity through her own talent: concocting scents. Her passion for the art of perfumery lies in its craft. Cecile, working as a perfumer for Mane USA, is fascinated by composing something herself with raw materials, infusing it with personality and sometimes a very personal message. Her inspiration & universe of ideas comes from the great painters, such as Van Gogh, Toulouse-Lautrec or Modigliani, who, despite having access to the same pallet of colors, played with unique combinations of textures, colors and light to give their works a strong signature and an emotional footprint.