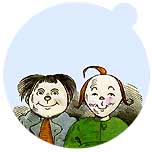 MAXXMO's Music Tip
Video: "Downtown" by Peaches (aka Merril Nisker, born 1968 in Toronto, now living in Berlin) from the album "Impeach My Bush". Peaches composes, sings, plays the instruments, programs the sampler and produces the records by herself.
You can hear her songs in movies such as "Mean Girls", "Lost in Translation", "Jackass: Number Two" ... and her (guest-)voice in the song "Oh My God" by Pink (album "Try This" last.fm/music/Pink/Try+This).
The punk-feminist artist's songs are about - what else! - sexuality, especially the distinction between male and female, such as in the video above.
She identifies herself as a sexual being "... although she rejects the sanitised portrayal of women in popular music". Read more about her view on male and female, listen tracks, details about her tour (5 Jan in Munich/Germany; 23 Jan Paris/France) on last.fm/music/Peaches.