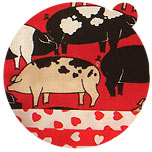 peSeta & Marc Jacobs
fall/winter 2008/9


Many different pigs!
On 25th November 2008 the Madrid based label peSeta for handmade products of fabrics from all over the world announced the 2nd collaboration with Marc Jacobs.

In June "... the guys from Marc Jacobs dropped by our shop wanting to see our stuff more closely ...
after making an exclusive limited series of tote bags for them, we felt we wanted to do something else together ... this time, we´ve created the passport holder."
The passport cases will only be available at the Marc by Marc Jacobs shops in the USA. If you are from Europe or Asia, Australia you can find on the site of Peseta more versions of passport cases, especially for music lovers:
"lovemetender" (in Spanish) with portraits of Elvis Presley and
"gerardlove", dedicated to one of peseta's favorite bass players and singers, the bassist of Teenage Fanclub.
fig.: The passport case for travelers and city wanderers is showing different pigs inside and hearts; on the package leaflet you can read: "... All of them are lightly different. iviva la diferencia!"
Check out www.peseta.org.