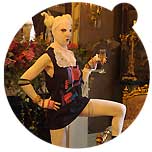 ROMAIN KREMER's T-Shirt
for the Preview Berlin staff
Preview Berlin – The Emerging Art Fair
30 October – 2 November 2008
Opening 29 October 2008, 18.00
Berlin Tempelhof Airport, HANGAR2


Entertaining Focus on Fashion

In its 4th year, the Emerging Art Fair - Preview Berlin works together with French designer Romain Kremer who has created in collaboration with the Londoner magazine Wound a t-shirt exclusively for the Preview Berlin staff. The t-shirt will be produced in a limited edition and sold exclusively until 2nd November at the Preview Berlin on the Airport Tempelhof in Berlin.

57 selected up-and-coming galleries from 13 countries will present international and emerging newcomers.
This year Preview Berlin has an entertaining focus on fashion: on 30 October the official Preview Berlin and Wound "Talent Scout" party will take place at 11pm in the "Roter Salon" at Volksbühne, featuring Feral (Caron Geary), Angie Reed and Cobra Killer. Wound is an emerging magazine for fashion, art, music and architecture woundmagazine.com.

Additional to the stylish t-shirts by Romain Kremer, the Preview Berlin Team will be outfitted by the Danish label Mads Nørgaard.
On 4 days you can visit the fair and various curated presentation formats, including the Video Art Program, the new Performance Art Day, and the Blue Room Series.
"This year's Video Art Program focuses on fresh new video art, which stands out with its own style and challenging subject matter. Hereby the artists follow different approaches and aims although the focus is primarily on social or psychological conflicts. In "Unstrung", 2008, Cecily Brennan, whose works deal with the vulnerability of the human body and the fragility of the human psyche conveys, with formal clarity and reduction, a feeling of general instability in images, which have a direct impact. ...
...
... The Video Art Program showing a selection of video works made up of contributions from the galleries participating in Preview Berlin is supplemented with a second programming. The second program features pieces by Berlin video artists who examine, for example, the performative nature of video and the interface between music and visual arts." Sabine Schütze (lives and works as a freelance curator in Berlin)


more fashion.at/mobile>>>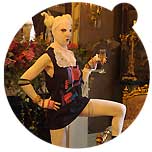 fig.: "Feral gears up for the art fair season in Romain Kremer for Wound & Preview Berlin" Photo: Helen Watkins & Caron Geary. Styling: Bee Ndlovo
Check out details of the program www.previewberlin.de.