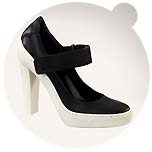 SERGIO ROSSI and PUMA
spring/summer 2009
Sportive shoes with sexy high-heels
In September 2008 Sergio Rossi, the Italian luxury brand for sexy shoes, and the global athletic label Puma presented the new spring/summer 2009 women's shoe collection, developed from such an iconic Puma sneaker like "Clyde"; the interpretations have the names: "Chic-Sneak" or "Speedy Mary Jane".
Video: Sergio Rossi is synonymous for elegant, high quality (high heeled) shoes. Founded in the 1950ies in Italy by Sergio Rossi, the brand was created in 1968. Today, Sergio Rossi is part of Gucci Group N.V., owned by PPR, a global player in Retail and Luxury Goods.
"Puma sees collaborations in fashion as a way to explore new territories and enhance the brand experience for our consumers. We are excited about our collaboration with a renowned Italian luxury brand like Sergio Rossi which symbolizes style, femininity and exclusivity all over the world. The partnership is an excellent opportunity to establish a new horizon for women sport-fashion footwear with a collection that represents the brand essence of both Puma and Sergio Rossi." Jochen Zeitz, Chairman and CEO of Puma.

Sergio Rossi's Creative Directors

Edmundo Castillo, women's footwear Creative Director from Feb 2006 until Sept 2008, has an obsession for creating shoes from the idea of a functioning whole. In Oct 2008 Francesco Russo was appointed Creative Director of the Sergio Rossi brand. The fall/winter 2009/10 collection is the first created by Francesco Russo for Sergio Rossi.
"Blending Italian luxury and sport lifestyle in a contemporary way is a concept we find incredibly exciting at Sergio Rossi and we believe we have found the perfect partner with PUMA. Through our levels of Italian craftsmanship and exclusive creativity, we are essentially enabling a modern crossover of traditional luxury clientele with a new breed of fans influenced not only by fashion, but also by sport and design" Didier Bonnin, President and CEO of Sergio Rossi.
The models
Puma brings in the street-savvy dose to not one but two unique shoe designs masterminded by the creative team of Sergio Rossi:

In 1973, the iconic "Clyde" sneaker was originally tailor made for all-star basketball legend Walt "Clyde" Frazier, whose apparent technique of "stealing" the ball from his opponents earned him the (Bonnie and) "Clyde" nickname. "Chic-Sneak" is the morphed version of "Clyde" - a high-heel sneaker which combines the technological design and constructive know-how of PUMA with the signature Sergio Rossi sex appeal.
Another model with high-heels is called "Mary Jane". It comes with Puma's signature velcro strap or a provocative lace-up pump with contrasting-colored laces.

The Sergio Rossi and Puma collection will debut at Colette in Paris in January 2009.


more fashion.at/mobile>>>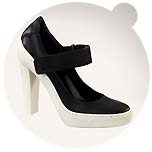 fig.: "Speedy Mary Jane", Sergio Rossi and Puma, Spring/Summer 2009. Copyright by Thomas Wiedenhofer 2008.

About Puma
In 2008 Puma celebrates 60 years anniversary! Founded in 1948 in Herzogenaurach/Germany, Puma today is one of the leading global Sportlifestyle companies, available in over 80 countries. The creative team of the label fuses influences from sport, lifestyle and fashion for footwear, apparel and accessories www.puma.com.

About Sergio Rossi
Check out the world of Sergio Rossi video about design and manufacturing "the making of the red shoe", video about the current collection, celebrities who have worn and wear Sergio Rossi shoes, shop women's, men's, bags online ... www.sergiorossi.com.

Video: Interview with Sergio Rossi Creative Director Edmundo Castillo by CBCtv, Canada's National Public Broadcaster, www.cbc.ca.

The Italian label Sergio Rossi is famous for it's glamouros high heeled shoes, for the hand-made custom-fit shoes ...