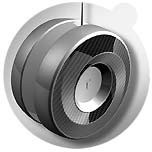 PURISME
fall/winter 2008/9


Toys for Adults
In October 2008 the Austrian design label Purisme, founded in spring 2008 by three designers and one management expert, presents its newest innovation: a chic design toy for adults. It will be available right in time (ca. November) for the ones who are searching gifts for holiday 2008.
"The Design of the Purisme Yoyo is from the formquadrat design team. They've elaborated the whole first "collection". The Purisme Yoyo is twice drafted - it is designed for adults but not only as a simple toy. The concept is thought for the audience who love puristic-seductive design and it should slip away the user from everyday routines, to enjoy a few rare moments of simple pleasure and total perfection," says Robert Kirchschlager, CEO and co-founder, about the latest innovation which is "designed to move".


more fashion.at/mobile>>>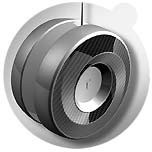 fig.: Purisme Yoyo "Toying With Design" is the motto! The game dates back 2500 years. In the new design it comes in solid metal and ultra light hi-tech carbon material. Its outer design is developed to produce hypnotic effects when it moves!
Each single Yoyo is fitted with a unique digital "engraving": an especially developed RFID-TAG (a micro-chip of ca. 2 cm width/height) that is encoded with a message from the design artists of formquadrat. At this time the message of the Yoyo is still a secret. But you can even get a personalized Yoyo with your own message. Purisme will offer this service on their website in the near future www.purisme.com.
About Purisme
Albert Ortig - business economist, Mario Zeppetzauer - designer, Robert Kirchschlager - ceo, formerly designer, and Stefan Degn - designer are the creative heads behind the new label which is headquartered in Vienna. After a few months on the market, Purisme has already won with the "Letter Opener" one of the most recognized design awards, the international Red Dot Design Award 2008. An international jury has chosen the label from 421 entries for being exhibited at the 21st Biennial of Industrial Design 2008 at Lubljana.