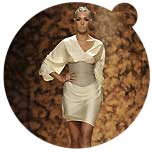 Qasimi
spring/summer 2009


The expression of the 'Maharajah'
London based design duo Khalid Al Qasimi and Elliott J Frieze presented for spring/summer 2009 a luxurious collection for women and men inspired by the beauty of the 'Maharajah' (stands in the Indian languages for 'great king, the ruler, sovereign').
Masculine pieces for Females
Signature tailoring and details can be found in men's and women's line: soft leather jackets, white shirts are the masculine aspects of the very female outfits with body curving pencil skirts and dress shirts.

Indian/Western combinations for Men
Is the central theme "masculinity - femininty" for women's pieces, it seems as if the designers have chosen the combination of Indian and Western costume as the leading theme for men's wear: some of the presented trousers for men are reaching to the knees; although they are described as capri pinstripe trouser they are more influenced by traditional Indian costume. The grey summer trousers accompanied by a scalloped wide waistband are the modern outfit of today's 'Maharajah'.
Safari
Along to the Indian theme, 'Safari' - the world of traveling - is another aspect in this collection.

Homeware
With this collection, Qasimi introduces their first creation in a line of homeware. The organic scented candle is entitled 'Noor.' The name embodies nostalgia conjuring up reminiscent memories of journeys across the salted Persian seas to a flower field garden in Southern England. Fresh cut Persian floral of Jessamine, lily of the valley and cherry blossom coupled with a twist of cucumber float on the breeze.


more fashion.at/mobile>>>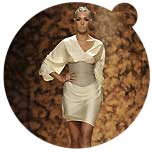 fig.: Qasimi spring/summer 2009, London Fashion Week. Copyright Catwalking.com
About Qazimi
Qazimi premiered with the fall/winter 2008 men's and women's wear collection in February 08 at London Fashion Week.
Khalid Al Qasimi grew up in the northern part of the Arab Emirates, in Sharjah, Khalid was exposed to a lifestyle influenced the glamour and sophistication of the Middle East.
The Al Qasimi family travelled the world, introducing their children to a world beyond their homeland. After being awarded an art scholarship at the age of 9 Khalid arrived in the United Kingdom. For schooling he attended the University College London for Hispanic Studies and French Literature. During his time at University Khalid was introduced to Elliott J Frieze.
Upon graduating in 2001 he decided to follow his passion of architecture and enrolled into the Architectural Association. After a 3 month trip to South America Khalid decided to embark on a journey to build a luxury lifestyle brand. Khalid entered the notable Central St. Martins in fashion design.
Elliott J Frieze, born in Cardiff, Wales, arrived in London at the age of 18. Soon Elliott enrolled in the University College London for History-Politics-Economics (Euro). While there he was honoured with a scholarship to expand his creative energy in with the glamorous worlds of Paris and Berlin.
At the age of 20 Elliott he began modeling. For the next two years he appeared in multiple publications as well as in advertising campaigns for Michiko Koshino and Paul Smith. Elliott was soon hired by Fashion Television as a presenter. Over time Japanese Fashion Designer Michiko Koshino appointment him International Relations Director. During his 3 years with the company he was internationally based in London, Seoul and Tokyo.
After leaving his post Elliott returned to Graduate school in his home country of Wales. His studies included Fashion Design at the University of Wales and a post-gradate degree in Business.
Behind the scene photos, current collection ... www.qasimi.com.
Video from the runway: Qasimi spring/summer 2009 on 15 September 2008 at London Fashion Week www.londonfashionweek.co.uk youtube.com/watch?v=QRjRB2Fxepg