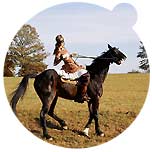 Petra Rautenstrauch
on occasion of the Month of Photography 2008 in Vienna
at the exhibition "I thought I was a panther"
(free translated from the original exhibition title: "Ich dachte ich wäre ein Panther" - the title is after the novel "Che animale sei?: storia di una pennuta" (2005) by Paola Mastrocola)
8 - 21 November 2008
Burggasse 21, Vienna www.sinnspinnen.org

Searching, Finding, Loosing Identity
In this exhibition eight female artists from Austria and Italy explore by the means photography and video how to get identity through self-expression and self-assertion. Searching, finding and how you can loose your own identity are the themes of the works by Patrizia Gapp, Simone Göstl, Susanne Jakszus, Judith Kaltenböck, Verena Platzgummer, Petra Rautenstrauch, Barbara Schwertführer and Eva Unterwurzacher.
Patrizia Gapp develops in her photographic work a figure which mutates while "free swimming"; Simone Göstl's work is about the moment which is at the same time infinite and real.

In Vienna living artist and photographer Petra Rautenstrauch, born on 4th January 1976, searches for Peggy Poetry.
In "Who the fuck is Peggy Poetry?", a series of 7 images, the artist portraits herself in the role of Peggy Poetry who asks:
What makes me different?
What are my qualities?
Who else I am?
How many different facets exist?
When and how will they come out?
And ... Who the fuck is Peggy Poetry?


more fashion.at/mobile>>>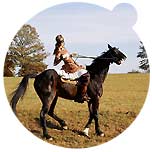 fig.: "Who the fuck is Peggy Poetry?", Petra Rautenstrauch, 2007/2008. Photo (C) Petra Rautenstrauch.
Petra Rautenstrauch started to work with photography in 2001. From 2002 until 2005 she studied at the FotoK, the college for art photography, Vienna. In 2007 she awarded the 1st prize at the "R.E.D. Architektur" photo contest; 2001 the 1st prize of the "Wiener Zeitung" photo-contest.