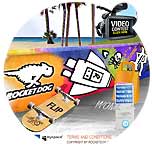 ROCKET DOG
fall/winter 2008


Video Contest for Shoe Enthusiasts
On 1st November 2008 California-based footwear brand Rocket Dog opens its e-commerce site and announces the winner of the video contest for shoe enthusiasts on www.rocketdog.com. The website was redesigned with new interactive features for a fun and free-spirited community by MindSmack.com in July this year. The visitors of the new website are able to connect with other fans, post blogs, listen to music, watch videos and vote in Rocket Dog's first-ever video contest – the Rock Your Dogs Video Throwdown.
Until 15th October, Rocket Dog enthusiasts were invited to submit a one-minute clip featuring a pair of their favorite Rocket Dogs. With few rules, the creative freedom was left to the mind of its creator.
The final vote will be left to website visitors. The winner will be announced on Rocketdog.com on 1st November.
"It can be tender, outrageous, suspenseful or just plain odd, but it's gotta have sole as well as soul," the website states.
"Our consumers are very passionate about their Rocket Dogs," states Mike Womack, Rocket Dog President. "We know they are also passionate about art, music and getting to be creative, so we thought this contest would be an exciting way to marry them all."
Video: rate this video "Flats, Holey Socks & My Shoe Fetish" on rocketdog.com!
Song: "All Right Now" by Free
Shoes: Black Quilted Mary Jane Ballet Flats (by Rocket Dog)


more fashion.at/mobile>>>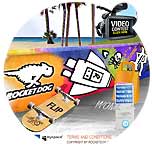 fig.: vintage-inspired shoes (Lumberyard and Lassey) for her from Rocket Dog's Fall '08 collection. On rocketdog.com you can find the full collection and the making of video "Rocket Dog Shoes Fall 2008" with inner tube riding, graffiti wall dancing, el camino cruzin', low-rider bike riding ..

About Rocket Dog
Based in Hayward, California with offices in Los Angeles and New York City, Rocket Dog Brand LLC is now internationally recognized footwear brand offering men's, women's and children's footwear with distribution in North America, Central America, Europe and the Middle East. The line is sold at leading department stores, specialty boutiques, surf shops and online retailers worldwide.