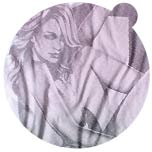 STRELLSON
spring/summer 2009


Pin-Ups by Mel Ramos on Shirts, Jackets, ...
In September 2008 the Swiss fashion and lifestyle company Strellson launched the new spring/summer 2009 collection with images from the work of the internationally famous pop artist Mel Ramos which will be available entitled as the "Mel Ramos Collection" from March 2009 on worldwide.
Pop artist Mel Ramos (born 1935) lives in Oakland near San Francisco. He has painted two of his typical pin-up girls exclusively for Strellson. The collection of jackets, jeans, sweatshirts, shirts and T-shirts to bags and shoes, accessories such as scarves, cufflinks and chains was developed around the two Strellson images, as a homage to Mel Ramos. In addition to the two paintings, quotations from earlier work and portraits by Mel Ramos are also used as prints.
The colours in the "Mel Ramos Collection" are inspired by the most important phase of Pop Art, the 1960s to 1980s. Strong colours like Saxony Blue, Burned Orange, Raspberry Pink, Sunflower, Green and Purple form a contrast to the subdued basic colours of the collection. Limited editions of a leather jacket and of two specially packed high-quality T-shirts showing the two images specially painted for Strellson will be the highlights of the collection.
The "Mel Ramos Collection" will be from March 2009 on in shops internationally, in Strellson monostores and online at www.strellsonshop.com.


more fashion.at/mobile>>>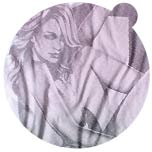 fig.: One of Mel Ramos' typical pin-up girls on a T-shirt by Strellson, SS09.
Strellson's media art
Video: "Rock the Road Video" by Strellson, first presented with the story behind in the premiere issue of "No 1 The Strellson Magazine" in September 2007. Strellson itself produces media content and art products such as videos and high-quality photographs.
On 72 pages - mostly photo sequences - Strellson gives an insight into the world of the label. With these images and texts the people who work for Strellson show how they see the world. The contents are presented in an unusual way which emphasises the method of communication that is typical for the brand.
The main focus of the paper is the unique large-format photographs, which are complemented by short texts. The pictures were taken in USA, Kenya and Switzerland by famous photographers like Matthias Ziegler, for example, but also by newcomers like Maximilian Rossner.
In October 2008 Strellson released the 2nd issue of the Strellson newspaper. In the subject-matter, the emphasis moves from the striving for change, via the global thinking of a new generation, to awareness of one's own tradition and appreciation of art and culture. The pictures were taken by well-known photographers such as Tyler Hicks or Masaru Tatsuki, but also by younger photographers like Maximilian Rossner from Munich. Check out the communication/art products by Strellson www.strellson.com.