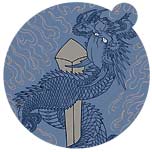 TEES and TATS
fall/winter 2008/9


Japanese tattoo style on t-shirts


In December 2008 New York based label Tees and Tats, founded by Jeremy Parker, presented the high-end t-shirt line designed by tattoo artist Marco Serio. The shirts in Japanese tattoo style are available in a limited edition; a percentage of its sales goes to the Naomi Cohain Foundation entitled 'Artworks' to encourage the creative spirit of children and young adults suffering from chronic and life-threatening illnesses.
Question: Where has Marco Serio started his career?

Jeremy Parker: "Marco Serio began tattooing in a small town on the outskirts of Lisbon, Portugal. He always had a dream of building a reputation as a world class Japanese-style tattooist, before long Marco relocated to New York where he perfected his style further, garnering the admiration of both the global tattoo community and eventually the arts world as a whole."
Marco Serio's tattoos are exhibited at the New York tattoo studio and art gallery INVISIBLE NYC invisiblenyc.com. From 13 - 15 February 2009 you can meet Marco Serio at the Milan Tattoo Convention (Italy). You can set up an appointment www.marcoserio.com.

Question: Can you tell more about your charity?
Jeremy Parker: "Tees and Tats have a strong commitment to charitable organisations, and pay a percentage of its sales to the phenomenal charity Artworks: the Naomi Cohain Foundation. Artworks celebrates the creative spirit of children and young adults suffering from chronic and life-threatening illnesses, and their siblings, enabling access to creative and performing arts programming to encouraging artistic processes for empowerment, emotional and psychological healing, communication, self-expression, and personal development."
The foundation's name was inspired by 14 years old Naomi Cohain diagnosed with bone cancer. She loved music, jewelry making, painting ... Art became her vehicle for self-expression, an emotional outlet and a source of comfort www.artworksfoundation.org.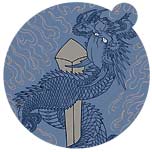 fig.: Ryuu by Marco Serio for Tees and Tats , 2008
Check out the interview by NY1's reporter Jessica Abo with Jeremy Parker and his partner on
www.ny1.com/Default.aspx?ArID=87811. You can get the t-shirts online www.teesandtats.com.