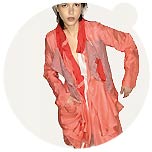 TROSMAN
spring/summer 2009


Experimental cuts and prints

For spring/summer 2009 Trosman presents pieces with layering in one piece, unconventional draperies as well as artful sprayed rubber prints.
Buenos Aires based designer Jessica Trosman takes distance from the classic methodology of a fashion designer and works rather seasonal "chapters" than on "thematic" collections. The aesthetic of her work is a consequence of how the experiences, the decisions and the fabrics end up behaving.
"We would like to describe the collection as a series of fabric compositions gathered with some elemental perspective.
We worked the surfaces using a rubber print where we sprayed a special paint which took us some seasons to develop. In most cases with the textiles we work in this way that could be compare with technology companies.
Our current development won't make it to the next presentation it takes more than a season to make it work. What we normally present is a research that we started some time ago. In a way our collections are nothing more than an edition of the developments that are ready. We have used only 3 fabrics for the whole collection. Cotton jersey - Woven silk/cotton blend - Woven satin silk.
We want a concrete organic expression and therefore we try to stick to on no more than 2 or 3 texture per collection." Jessica Trosman.


more fashion.at/mobile>>>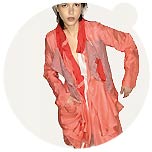 About Jessica Trosman
Jessica Trosman presented her first collection in 2002. Today trosman is available in Europe, Asia, U.S and Middle East. Her work is included in the latest compendiums of fashion design (Fashion Now 2, 2005 taschen; Sample, 2005 Phaidon) www.trosman.com.
photo: Gabriel Rocca (C) Rocca