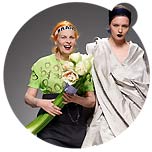 VIVIENNE WESTWOOD
spring/summer 2009


Gold Label
"Do it yourself" is the motto of Vivienne Westwood's manifesto and the leading idea of the Gold label collection 2009.

"The most important thing about this manifesto is that it is a practice. If you follow it your life will change. In the pursuit of culture you will start to think. If you change your life, you change the world." Vivienne Westwood on her website activeresistance.co.uk.
You will find many pieces in this collection which thematise the change of our behaviour to stop deforestation - especially of the world's rainforest - and encourage sustainability by opening minds towards ideas in regeneration. In Vivienne Westwood's WorldsEnd Shop she practices her ideas and sells special items, one offs and samples from her archives for affordable prizes on worldsendshop.co.uk.
"... Selecting classics from my archive I put together a high quality look that kids could afford." Vivienne Westwood
Mix and match, the "multiple-wear" is the key-look in this collection: historical pieces matched with newly acquired items such as a candy striped fabric is reworked into a splendid gown, a luxurious Chinese embroidered silk is reconstructed through drapery into an evening dress. Silk scarves double up even as sarongs and halterneck dresses. Even a knitted camisole can be worn as a mini skirt or mid-driff cross back jumper as well as wearing jumpers and cardigans back to front to make them new.


Vivienne Westwood's messages are even applied on textiles with graphic prints such as the "30 billion dollars" print (the amount required a year to achieve total regeneration of the rainforests to make them new) with doodles of zeros as a key feature to illustrate the number of noughts and scale of money needed.
On Vivienne Westwood's site you can download the manifesto about culture, especially art, in different languages. The manifesto is written in the tradition of old-Greek philosophers such as Platon's Symposium. Check out Alice (from the Wonderland), Pinocchio, Aristoteles, Leonard Peltier, .. in conversation with AR (Active Resistance) activeresistance.co.uk.
"Culture is a unifying experience. We are moving towards a centre which is infinite. Our guide is RHN (Representative Human Nature), universal, timeless and recognizable even to the point where we recognize something we've never seen before – as true to life. In this sense RHN is a dynamic force, alive and open to improvement because it depends on the inner check – the ethical imagination – of every one of us. We become more human which in turn gives culture its rejuvenating power. We define culture as: The exploration and cultivation of humanity through art." www.activeresistance.co.uk/Manifesto.pdf, page 13

Red Label

Vivienne Westwood's Red Label collection for Spring/Summer 2009 is about a girl on a journey through hot places such as the desert where cooling pieces are needed: ethnic inspired-geometric based cuts, including large, draped "harem" pants, Arab hooded dresses and "pull up" skirts give an exotic mood to the looks.
On the brooch of one of the hooded dresses you can read "Leonard Peltier is innocent". On Vivienne Westwood's Active Resistance site you will learn more about Leonard Peltier:
"Leonard Peltier has been in jail for 30 years, day in, day out for a crime he did not commit ..." activeresistance.co.uk
fig.: Vivienne Westwood on the catwalk

Video: Vivienne Westwood Gold Label Spring/Summer 2009 at the Paris Fashion Week, September 2008
Video: Vivienne Westwood about her collection, developed on a practical 'Do-It-Yourself' ethos.