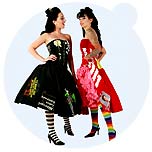 ANGELA JOHNSON
spring 2009


Warning: ... you have to expect that Angela's sense of humor will be included with this dress.


US fashion designer Angela Johnson presents for spring 2009 eco-friendly gowns made from recycled, thrift store T-shirts under the title 'Candyland'.
Since more than 7 years Angela Johnson creates the 'T-shirt Ballgown' eco-friendly style of corseted, crinoline lined dresses from recycled T-shirts. For spring 2009 she designed four new silhouettes: the Bubble Dress, the Ruffle Dress, the Baby Doll Dress and the Toddler T-shirt Dress. The Arizona based designer uses 5 to 25 shirts per garment.
"I like the juxtaposition of using a casual fabric like screen printed T-shirt jersey to fashion a sophisticated and complicated gown. The complexity of the design allows me to use multiple shirts and because each shirt is found at thrift stores or even supplied by my customers, each dress has many different screen printed images on them which make them each a one-of-a-kind." Angela Johnson
fig.: T-shirt Party Dress by Angela Johnson, spring 2009
Angela Johnson's dresses are one one-of-a-kind pieces. There are two ways for the designer to create the gown: she collects the shirts to recycle them into a new dress, or you can bring your vintage shirt. On her website she publishes for this dress a "WARNING: As with the rest of Angela's clothing, you have to expect that Angela's sense of humor will be included with this dress."
You can not request a specific color because the dresses are made of vintage shirts; but Angela Johnson will match nearly shaded shirts in your dress.
The designer even offers to design a dress for a specific theme. She will try to find "images related to the theme requested, but it is virtually impossible to thrift so many shirts with the same theme at the same time".
Photo: www.davidhsmith.com; Model: Frances Moeller and Dominique Garino Mackler; Hair/Makeup: Cherelynn Baker www.makeupuniversity.com; Accessories: www.shopdevious.com Beauty Lounge and Boutique; Merchandising and props: Shannon Campbell; Shoot styling: Veronica Sahwany
Check out the video from the catwalk and interview with the designer Angela Johnson about her collection 'Candyland': Angela Johnson's Candyland @ Scottsdale Fashion Week http://cashak.tv/fashion-shows/angela-johnson-candyland-spring-2009/.
The new line is available in US stores (find the list on the Angela Johnson website) and in the online shop www.angelajohnsondesigns.com.

About Angela Johnson
Since 14 years in the fashion business, Angela Johnson is an award winning clothing designer. Her fashion design career started at X-Large Clothing (owned by Mike Diamond of the Beastie Boys) and X-Girl (owned by Kim Gordon of Sonic Youth). In 2000 she launched her own label.
She has been honored as Fashion Group International of Arizona's Rising Star in 2004, Artist of the Year by the Scottsdale Cultural Council's Chairman's Committee, ...
Angela Johnson's talent for organisation is one of the causes why Arizona had from 2003 until 2007 an own fashion directory under the title Fashion Foundation / LabelHorde Fashion. Until today she coordinates and exhibits her own line in the fashion show portion of the Scottsdale Museum of Contemporary Arts SMoCA Nights quarterly event.
In the same year she has launched her own label (2000), Angela Johnson began teaching fashion design classes at New School for the Arts in Scottsdale, Arizona; Fashion Marketing classes at the Art Institute of Phoenix followed. Currently she is teaching at Mesa Community College. For her teaching qualities she has been honored in the 2004 edition of the WHO'S WHO AMONG AMERICA'S TEACHERS, an award which is reserved for only 5% of the nation's teachers.