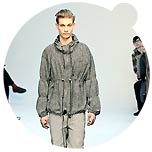 BLAAK
fall/winter 2009/10


Working Class Hero
In January 2009 Blaak from London had shown the new fall/winter 9/10 collection under the title 'Man vs Machine' during the Paris Fashion Week at the Bastille. The designers of Blaak are renowned for drawing from a wealth of world cultures, reinterpreting ever diminishing tribal influences, creating progressive yet democratic collections.
Video: Blaak Homme FW9/10 defilée on the catwalk in Paris with the sounds of John Lennon's 'Imagine'. The designers mixed the catwalk music with "metallic throbbing, the ambiance was alive with peace amidst industrialism".
The designers of Blaak are Aaron Sharif and Sachiko Okada. They have met whilst studying at Central St. Martins. Blaak was founded in April 1998, Since SS07 they are focusing on menswear.
With the 'Man vs Machine' collection, Blaak Homme convey a sense of reassurance and hope in rebuilding the future.
Blaak's defines the new man unconventional, comfortable, masculine. Industrial and urban elements are reflected in the style such as in industrial English melton wool donkey jackets with perfecto zips and leather which resonate a rugged masculinity.
fig.: Handpainted herringbone screen printed jacket by Blaak Homme FW9/10, during the Paris Fashion Week in January 2009. The print you can see on this picture is a hand drawn herringbone screen print with 3m ink on a wool base. The trousers are hand painted with 3m on reversed indigo jeans.
Video: Blaak Homme SS09. Blaak's video 'Tudor Ugly' is representing the man in the urban surrounding. (The royal house Tudor ruled the Kingdom of England until the early 17th century.) In the beginning you can hear the sound of galoping horses, church bells, followed by industrial inspired electronic/tribal music.
Check out another Blaak movie; Blaak Homme Fall/Winter 2008 'Buffalo Soldier'. The cut of the movie is in the same rhythm like the electronic music youtube.com/watch?v=o0jFu7x9Vhs
About Blaak

Sachiko Okada and Aaron Sharif are both educated at the Central St. Martins College of Art and Design (1996-1999). The first collection (1998) was sold to Browns, followed by Liberty, Colette and Barneys before graduating.

Video: Interview by flasher.com with the designers of Blaak in 2007.
The designers of Blaak have been awarded several prizes such as in September 2002 the New Generation award by the British Fashion Council, at the same time the Elle Style Young Designer of the year Award, in 2001 the Vidal Sassoon Cutting Edge Talent Award...
Since 2003 they are teaching at Central St. Martins College.

10th anniversary - shop opening

On 18 September 2008 during London Fashion Week Blaak opened their own boutique in London on a historical place: Blaak's space was the home of the oldest shop (built circa 1567) in London. The original interior of the boutique was designed in the 90s by Fritz, of design duo 'Frick N' Frack', who also designed Björk and Boy George's homes. Adding a dose of their own DNA to the shop, Blaak have hand-selected one of the 'four designers of the future' at design miami/basel 2008, artist Max Lamb, to create custom hand-made pieces of rugged and revolutionary furniture. You can find the shop in 13-14 Portsmouth St, WC2 London, http://www.blaak.co.uk/