Campari
Calendar 2010


Italian street style
By the end of July 2009, the first 'behind the scenes images' from the Campari Calendar 2010 shooting have been published showing Bond-girl Olga Kurylenko in front of the camera of photographer Simone Nervi on the fashionable streets of Milan.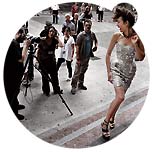 fig.: Campari Milano: Campari Calendar 2010. Starring: Olga Kurylenko. Photographer: Simone Nervi. Stylist: Emily Lee. Outfit: Gianfranco Ferré. Shoes: Gianfranco Ferré. Jewellery: Vhernier. Photo by Filippo Mutani www.filippomutani.com.
Emily Lee is the stylist of the 11th edition of the Campari Calendar. For the photo on this page (below) she has chosen a dress and shoes by Gianfranco Ferré www.emilylee.net.
The photographer of the calendar with 16 snapshots of actress Olga Kurylenko is Simone Nervi, an emerging Italian photographer who has already worked for Miss Sixty or Vogue Bambini. He has selected places in Milan where the special moments and rituals of the city express the Italian lifestyle best. Check out his portfolio and projects on www.gliindifferenti.com.
Ukrainian born Olga Kurylenko moved to Paris when she was 16 and started acting and modelling in Paris, Milan, New York and London. Olga received the Best Actress award at The Brooklyn International Film Festival in 2006. She became worldwide renowned as Bond-girl alongside Daniel Craig in Quantum of
Solace. She will appear in the upcoming French production Kirot, a film by Neil Marshall. Shortly she will begin shooting There be Dragons, directed by Roland Joffe.
The calendar shots will be unveiled in October 2009. The Campari calendar 2010 comes in a limited edition www.campari.it.


Source: Original article with images on http://www.fashionoffice.org/foto/2009/campari7-2009.htm.


more fashion.at/mobile>
News from
May - July 2009
April - May 2009
Jan - March 2009
October - December 2008