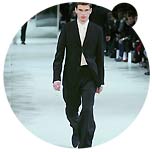 CERRUTI
fall/winter 2009/10


The elegant touch of contemporary men
During the Paris Fashion Week in January 2009 Cerruti presented the second men's wear collection created under the art direction of the Belgian Jean-Paul Knott and the new Cerruti president Florent Perrichon.
Video: Cerruti Fall/Winter 2009/10 Men's Wear during the Paris Fashion Week on 23 January 2009; by ErichBen youtube.com/user/ErichBen.
On the Cerruti website you will find an interview between both men about the founder of the luxurious ready-to-wear concept Nino Cerruti, men and women...
"How did you define 21st century Cerruti man and woman?
Florent Perrichon: I haven't made a distinction between man and woman, they are a common concept, a global citizen.
Jean-Paul Knott: Man or woman, each is contemporary."
Probably that's the reason why this collection has the elegant masculine touch of contemporary men who have raised above making distinctions between gender, race...
The Cerruti man fall/winter 2009/10 is defined as "... approachable and caring, treasuring uniqueness and individuality. He is active, easy with an aesthetic and natural elegance and always sensitive to his surroundings. The values of details, quality and feel are essential for the Cerruti man."
Jean-Paul Knott has created the Cerruti collection around three feelings that reflect the various moments in live and define dress mood: dawn (morning, bright colors), noon (colors of fog and stormy greys), and dusk (wine red, dark brown - the colors of the sun, just before night begins).
One of the highlights of this collection is the 'Caviar'-fabric: a classic plain weave with contrasted colours, which gives the visual effect of regular dots. You will find out that this collection offers two edgy trousers styles: the drainpipe trousers influenced by the Beatnik Generation, and pants with bell-bottom combined with a narrow cut jacket.


About Cerruti
In 1881 the spinning and weaving label Cerruti was founded. In the 50ies Cerruti began to cut and sew the fabrics.

The first men's wear collection designed by Nino Cerruti was presented in 1957. The concept was to create 'luxury ready-to-wear'.

In 1967 the first 'Cerruti 1881' boutique opened in Paris.

In 1976 'Cerruti 1881 Femme' premiered.

Since 1978 fragrances accompany the Cerruti style; often inspired by the fabrics Cerruti is famous for.

In the 80ies Nino Cerruti has made the costumes for Hollywood celebrities like Robert Redford, Jack Nicholson, Clint Eastwood...

Since 2007 the Belgian Jean-Paul Knott is the artistic director of Cerruti; Knott founded his own company in 2000, was creative director of Krizia (2002), Louis Féraud (2004)... Check out more on his own site jeanpaulknott.com.

In 2008 Florent Perrichon was named the president. More about Cerruti www.cerruti.com.


more fashion.at/mobile>>>