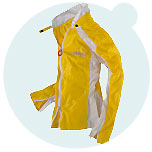 crust
spring/summer 2009


Stay safe, change the logic of actions and reactions, broaden the horizons!
The Italian brand Crust develops collections with the technical functions of 'worker jackets', especially the ones workers are wearing in extreme situations. On Crust's website you will find a movie about the new fall/winter 2009/10 collection; some of the models wear the 'safety sleeve', a reflective sleeve which can be used while twilight or bad sight conditions.
For spring/summer 2009 the team of Crust got inspirations from the 70ies and 80ies.
Safety
For the ultra-light tailored 'Nylon Vintage'-jackets on this site the keywords are historical memory and thoughts. The designers have researched the archives to create new cuts with elastics and zips which can be opened with a fluorescent ring - is it a 'safety'-ring?

Logic
Alongside to 'safety', you can find another forward-thinking theme in the current collection: 'Ventosa' for urban windbreaker-jackets is about "... surroundings where opposites mix and actions and reactions change logic, creating all that is new."

Horizons
The 'Surfer Team'-theme for the experimental technical sweatshirt and wind jacket in one piece follows a Jacques Rousseau alike neo-romantic philosophy:
"Nature seduces thoughts and style.
The wind and body live together side by side without bonding, everything is still possible.
...
It is possible to sense the future in the potential of the present:
the charm of two stylish elements that move in the contrast between shiny and matt, creating something completely new that broadens the horizons.
Of experience."
Crust publishes rocking movies showing the current and latest collections in edgy sceneries on the website. On 15th January 2009 the new fall/winter 2009/10 collection was presented during the Milan Fashion Week. Check out movies about fall/winter 2008/9, spring/summer 2009 and the newest trends for next fall/winter 9/10, read the crust philosophy ... www.cbycrust.com.


more fashion.at/mobile>>>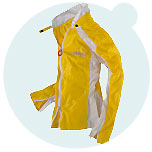 fig.: Crust spring/summer 2009. 'Bajonne' for women; the jacket is made of waterproofed material.

Crust has shown the first men's collection in 2005. The label is owned by Cinellistudio.