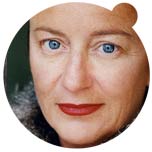 Archaeology of the Future
curated by Li Edelkoort
26 March - 31 May 2009
at the Designhuis in Eindhoven, The Netherlands


Trends are not a brief phenomenon
The exhibition center Designhuis by the Design Academy Eindhoven presents 'Archaeology of the Future', curated by renowned trend forecaster Li Edelkoort who reveals in this show that trends are not a brief phenomenon, but are deeply rooted in our daily lives.
Edelkoort has selected a wide range of colours, materials and concepts that dictate our daily lives by researching and analysing links between fashion, art, design and the consumer culture. Her observations are visualised in colours, materials and concepts, jointly presenting the roots and traces of the future.

On display are a broad variety of design, fashion, photography as well as images from Edelkoort's archive.

About Li Edelkoort
Li Edelkoort has strengthened the Design Academy Eindhoven by adding a complementary second system to called the 'kompas', thus clustering the theoretical and the constructional subjects, and deepening the design education overall.
Driven by her profession as a trend forecaster she always knew how to spin the Design Academy Eindhoven in the direction needed; this resulted, for example, in setting up the Man and Well being department and initiating the master courses Man and Humanity and the IM Masters, lead by Droog Design.
During Edelkoort's ten years (until 2008) of leading the Academy many graduates have found there way to the international design podium, among others stimulated by the thematic international exhibits in Milan, New York and Tokyo. Read more fashionoffice.org/who/2008/liedelkoort7-2008.htm.
fig.: Project portrait Li Edelkoort. Photo by Philippe Munda.
Check out more about Designhuis and its exhibitions designhuis.com.
Video: From 19 December 2008 to 8 March 2009 the Designhuis shows the exhibition 'Glass - the alchemy of our day-to-day lives'. Curator Li Edelkoort explores the creative record of the material glass in all its appearances, from purely industrial and serial design to autonomous design and art, with work from among others Maria Roosen, Pieke Bergmans, Anna Carlgren, various designers from Design Academy Eindhoven and companies as Baccarat and Royal Leerdam Crystal. Video by Designhuis youtube.com/user/stichtingdesignhuis.