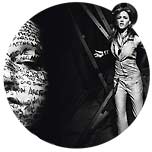 JOHN SCARISBRICK for DIESEL
spring/summer 2009
In January 2009 the new Diesel advertising campaign photographed by Stockholm (Sweden) based John Scarisbrick. This is the second campaign of Scarisbrick for Diesel; the surreal scenery with symbols of old and new mysticism are leading you into a parallel world. On the mostly split photographs, the real and its invisible part such as feelings, fear, dreams... - are telling a story which make us to think about, dream with, or to experience fear.
Diesel was one of the first brands that has created advertising campaigns for the international market. That's the reason why Diesel is one of the best examples for how the 'universal language of fashion' was spoken in the last years. The creative team is using symbols which are known by fashion addicted customers in many different cultures; such the ones used in the photographs by John Scarisbrick.
The Diesel Creative Team, led by Creative Director Wilbert Das, cooperated for this campaign with the Swedish agency FarFar, the photographer is John Scarisbrick and the stylist Karin Smeds. The campaign was shot at the 1896 Studios in Brooklyn.
The cinematic influenced "split screen" style of the print work has a pendant on the web, where you can get 'deeper' into the mystical sceneries. The website hosts online films that explore the universe of the print campaign. "Brave yet thoughtful, contemporary yet timeless, strange yet fun, serious yet ironic, pure propaganda yet aesthetically pleasing, the videos are open to a million different interpretations. Are you ready to explore the darkest reaches of Diesel? Then travel with us into a print and online labyrinth where nothing is quite what it seems." www.diesel.com
John Scarisbrick's editorial works are published in the New York Times Magazine, Vogue Russia, Interview, The Face, Gloss, Bon, W, Harpers Bazaar, Arena... International labels like H&M, ERES, Nike, Shiseido , CK Jeans... have used his art for campaigns. Celebrities such as Björk, David Bowie Salma Hayek... have been in front of his camera www.johnscarisbrick.com.


more fashion.at/mobile>>>


Video: Diesel 'Black Gold' SS09 at the Mercedes Benz Fashion Week in September 2008; by youtube.com/user/FASHIONMVTV