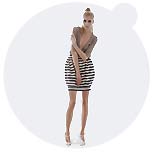 ERIKA HENDRIX
spring/summer 2009


The liberty to dream and fantasize about amorous adventures
German based designer Erika Hendrix (aka Erika Bates) presents her new spring/summer 09 collection under the title 'An Urban Romance' with a romantic story on her website. The story is written by Thom Crowe.
Who is Thom Crowe?
Erika Hendrix: Thom Crowe is a freelance writer based in Tulsa, OK. We met at the Indie Emporium in Tulsa, OK in Oct 2008.
After I had the idea of having a story with my latest collection I posted a bulletin on MySpace and he wrote back and I loved his first draft! That's how our collaboration started.
What's the name of the main character?
Erika Hendrix: The main characters name is Emily, she is from a small town and moving to the big city.
Why have you chosen to present your collection online by telling a story?
Erika Hendrix: By telling a story with the collection it gives more life and personality to the collection and it also shows that clothes reflect your inner confidence.
What's the story about?
Erika Hendrix: The story is about a shy girl that is moving into the city and learns that clothes can make you more confident and show your personality and that you don't have to hide behind clothes. Clothes don't own you but you own the clothes.
'An Urban Romance' has been designed in order to allow women not only the freedom to express themselves in romantic and fashionable ways, but also the liberty to dream and fantasize about amorous adventures through their selection of clothing.
Women who are ready to get into the romance about fashion with designs by Erika Hendrix can do this on
www.ErikaHendrix.com.

fig.: Erika Hendrix spring/summer 2009. Copyright © 2008 Erika Hendrix. Photographer: Stefanie Heider wunder-licht.com.
About the designer
Erika Hendrix was started by Erika Bates (born 1984) in July 2005. The designer with base in Mannheim/Germany started with one-of-a-kind-pieces such as her FW8/9 collection, entitled 'Rock Out in Style' fashionoffice.org/design/2008/erikahendrix10-2008.htm. Shortly after the beginning she has got attention by journalists and musicians (No Angels singer Nadja Benaissa and the band Delicious are wearing her clothes) because of her creative talent. Erika will introduce a bag/purse line and a jewelry line in May/June 2009.