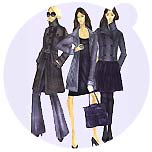 Esprit
fall/winter 2009/10


One-part pieces for the cultural mix


Trendflash Women Collection

On occasion of the seasonal previews on the fall/winter collections in January/February each year, Esprit has presented its women's and men's trendflashes with sketches.
The new woman is defined by contrasts: the playfulness of the girl and the discipline of the woman have inspired the Balkan/Asian influenced pieces which are showing elements of Brit Chic and the All American Look.
The reduced design focuses on the smooth quality of the material and its colors: intensive colors of jewels, berries, tones of blue are combined with non-colors.
Trendflash Men Collection
Petrol, red and purple are the coloring highlights of the elegant Cross-Over-Look for the sportive business wear. The interesting finishing of the pieces is important.


more fashion.at/mobile>>>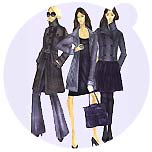 fig.: One-part-pieces such as coats, dresses, jackets ... are preferred towards the classic costume with corresponding skirt and jacket.

About Esprit
In 2008 the worldwide active label Esprit with stores designed by renowned architects and famous logo with interrupted lettering celebrates with a special Celebration 68/08 look in Memphis design its foundation by Susie and Doug Tompkins in 1968 in San Francisco. The couple entitled their company Esprit de Corp which means "team spirit" and began to sell the first fashion line from a VW bus. Esprit's first headquarter was the Tompkins' apartment in San Francisco.
More about fashionoffice.org/interior/2008/esprit9-2008.htm