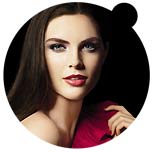 ESTÉE LAUDER
spring 2009


Fuchsia and neutral colors for a retro-mixed look from the 40ies to the 70ies
'Fuchsia Now' is the title of the new spring collection by Estée Lauder. The color concept is developed from the idea of the first warm evenings which can be spent outside. Inspired by the fashion seen on international catwalks, the design-team by Estée Lauder has chosen colors which fit perfectly to the coming fashion: neutral tones combined with vibrant fuchsia and bold berry shades are made for the new voluminous dresses with geometric patterns and graphically stylized florals on sheer, soft fabrics. The allover look is chic and casually elegant.
The Fuchsia Now Color Collection (limited edition) is made for every skin tone by using contrasts: light and bright, warm honey and tender peach are paired with vibrant fuchsia.
The Look
On the cheeks a hint of fresh color, the eyes allure in shades of deep indigo and rich earth tones. When you apply it, call yourself the make up style of classic beauty icons such as Bette Davis and Bridget Bardot to mind... Lips are full, soft and lustrous. The nails are polished in coordinating shades to the lips.

Day and Evening Look
Estée Lauder offers this season two color families for the day and evening look: the day look "Warm Nude" is made of eyeshadow in Aubergine, eye pencil in Walnut Brown, lipstick in Perfect Nude or Earthen Nude, with the color gloss in Honey Flower, perfectly combined with the nail lacquer in Honey Flower.
For the evening take bold colors! The evening look "Cool Pink" consists of an eyeshadow in Indigo, eye pencil in Jet Black, lipstick in Mayfair Mauve or Rich Berry, color gloss in Fresh Berry, nail lacquer in Fuchsia.


more fashion.at/mobile>>>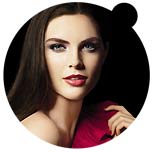 fig.: Estée Lauder spring 2009
This season's catwalk trend for stylized florals inspired Estee Lauder's packaging. You will find the new modern fleur de lys on the powder and the eyeshadow duo. Available for a limited time www.esteelauder.com.