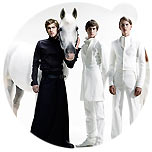 LABO MODE at Galeries Lafayette Berlin
3 emerging German designers are presented in cooperation with ESMOD

28 - 31 January 2009 during the Berlin Fashion Week
until the end of March 2009 in LABO MODE
at Galeries Lafayette Berlin
www.galeries-lafayette.de


Emerging designers in Berlin
Galeries Lafayette is selecting each year emerging designers to be presented during the Berlin Fashion Week. Fashion by the three Berlin based designers Seelenkleid, Volutio by Anna Kleihues, and Magdalena Schaffrin are shown this year under the motto "Fashion Week for Everybody!" in the windows of the shopping temple from 28 - 31 January and in the permanent LABO MODE space until the end of March 2009 on the second floor.

Aura with Body

Seelenkleid, spring/summer 2009.
The theme of the current collection is 'aura - materialized feelings'. You can find on the pieces coatings - looking like rubberized body fluids.
For Seelenkleid designer Ella Haberlach coatings can make the invisible, immaterial aura visible, and give her the ability to be grasped - coatings give the aura body or with other words: form follows soul. Seelenkleid collections are the designers' personal dairies which are reflecting her visions. Ella Haberlach is searching after the extraordinary and transfers it into every day life.
Ella Haberlach (born 1980 in Kazakhstan, since 1988 in Germany) is the designer of Seelenkleid. She studied fashion and textile design at the university Reutlingen and worked for Hugo Boss, Gharani Strok und Jenne O. in London, to name a few. In 2007 Seelenkleid premiered during the Berlin Fashion Week.

Masculine Form for Men and Women
Volutio by Anna Kleihues, spring/summer 2009.

The collection "The chevalier's Rose" was presented at the independent showroom AREA Private in Paris.
Anna Kleihues researches the modern form for men's wear in ancient costumes, armor and art. For the current collection she got her inspirations from paintings of Fernand Léger and the suits of armor worn by knights in former centuries. The Volutio knight is dressed in a new lightness of pure non-colors. The pieces are made of cotton, eco friendly cotton, pure wool and viscose. The designer is working on the masculine form; but this does not mean that women are excluded from this elegant fashion.

Volutio designer Anna Kleihues (born 1975 in Westfalen, grown up in Berlin) studied physics and art/fashion (AMD Düsseldorf); she assisted Zac Posen (New York). In 2007 she was selected for the Cognos Relevance Award for Volutio. Her second Volutio collection "Le chevalier parmi les Dandies" FW8/9 was nominated for the 'Innovationspreis textil+mode.'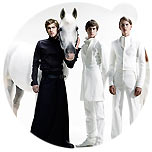 fig.: Volutio by Anna Kleihues, spring/summer 2009. Photo: Peter Godry.