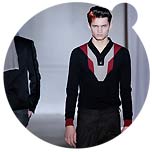 GASPARD YURKIEVICH
fall/winter 2009/10
Folk in fashion, music, hair, make up
"Hold that thought" is the title of Gaspard Yurkievich's new fall/winter 9/10 men's collection inspired by folk images of different backgrounds, but
"... the collection does not rely on nostalgia. On the contrary, these inspirations are taken from many elements are freely mixed, and reinterpreted in order to extract the essence and intensity."
Music The special mix of music comes from musician Dani Siciliano www.dani-siciliano.com. One of her own tracks are entitled "hold that thought". She mixes it up with other contemporary artist to "... exemplify the notion that folk is not limited to a traditional sound but best brought to light by the sentiment of its maker".
Hair & Make up Gaspard Yurkievich's focus on 'modern folk' is expressed even in the hair and make-up: iridescent color in the hairline and at the nape of the neck accentuate the concurrent theme and the ideas that represent the spirit of modern folk.
Fashion The folklore theme is realized with such ethnic patterns like the blue/white shirt in the beginning of the video; Yurkievich re-works the classical male style made of dark and warm colours like brown, anthracite, beige and black with a flash of orange and leopard print motifs.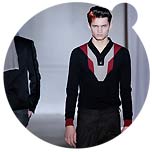 fig.: The graphical lines from the summer collection 09 are continued as you can see on this photo. Yurkievich constructs a 2 dimensional collar/shoulder extension which reflects in the eyes into the next dimension. Many of his graphical lines seem to be developed from the cross like you can see on the video on the shirt in the traditional blue white checked cotton poplin. Photo: Shoji Fuji.
The coat with oversized collars, detailed cuts stressing shoulders is the centrepiece of the collection. Alongside to the '2nd skin' knitwear you will find jackets inspired by traditional American Football.

more fashion.at/mobile>>>



About Gaspard Yurkievich
Gaspard Yurkievich was born on 16 May 1972 in Paris. From 1991-93 he has studied at the Studio Berçot.
Yurkievich has worked at Thierry Mugler, Jean Paul Gaultier, Jean Colonna, is the winner of the ANDAM competition and the 12th International Festival of Art and Fashion at Hyères ... In his collections Gaspard Yurkievich reflects the glamour of youth from the streets. Check out details fashionoffice.org/who/yurkievich9-2004.htm.
Gaspard Yurkievich presents on his website his boutique in Paris, current men's, women's, shoes, accessories collections, collections of the former years, e-shop... www.gaspardyurkievich.com.


Video: Gaspard Yurkievich fall/winter 2009/10, catwalk presentation on 23 January 2009 during the Paris Fashion Week. Video 2 of in sum 5 parts by youtube.com/user/jimmyraphael