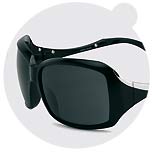 GIORGIO ARMANI
spring/summer 2009


The inventor of cool glam
Giorgio Armani is synonymous for cool glam. His new eyewear collection expresses the idea of contemporary glamour with the significant Armani cool-touch.
The cool glam for spring/summer 2009 is made of classic style with retro chic appeal of the 60ies (feminine sunglasses with generous rounded outline pierced with floral pattern), new interpretations of the 90ies (masculine sunglasses with a sophisticated key shaped bridge and engraved Giorgio Armani logo) and the 'red carpet' look (smoky lenses and big glasses).

Video: Giorgio Armani Spring/Summer 2009, Ready to Wear; Interview with Giorgio Armani, statements by Style.com-reporter Tim Blanks about Armani's style, Makeup artist Linda Cantello about the natural look of the models for creating the sensual woman, Vanity Fair editor Michael Roberts ... by www.style.com.




Armani and Cinema
Giorgio Armani's cool glam is probably one of the most preferred styles on international red carpets. His catwalk presentations are front rowed by Sophia Loren, Claudia Cardinale, Hilary Swank, Ellen Pompeo, ... such as seen on occasion of the Giorgio Armani Privé collection in 2008 fashionoffice.org/collections/2008/armani1-2008.htm.
The couturier's heart beats for the cinema. In 2007 Armani supported Martin Scorsese's 'World Cinema Foundation':
"Just as for Martin, cinema has inspired and influenced my life from when I was a young boy. The mission of the World Cinema Foundation is fundamental to the preservation of important films from around the world, which will inspire and influence future generations. I commend Martin Scorsese and his fellow Directors for their vision and commitment to fulfill such an important mission." Giorgio Armani, May 2007 fashionoffice.org/film/2007/giorgioarmani5-2007.htm
Born 1934 in Piacenza (Italy), Giorgio Armani is famous for his costume design in legendary movies such as 'The Untouchables' (1987), 'American Gigolo' (1980) (costumes for Richard Gere), 'Homo Faber' (1991) (costumes for Sam Shepherd) ... Source: imdb.com/name/nm0004714/bio
You can check out the cool glam by Armani even in the Cole Porter story 'De-Lovely' (2004), directed by Irwin Winkler, where he made some of the costumes with signature period looks for Kevin Kline and Ashley Judd.
"I was amazed," adds director Irwin Winkler on Giorgio Armani. "Here's this man who runs a fashion empire, and he's down on his knees with pins in his mouth, chalking up and saying 'Let's get the cuffs right.' He spent six or seven hours just fitting Kevin in some clothes – it was quite a treat." fashionoffice.org/film/delovely7-2004.htm
Today, the Giorgio Armani 'empire' designs, manufactures, distributes and retails fashion and lifestyle products including apparel, accessories, eyewear, watches, jewellery, home furnishings, fragrances and cosmetics under a range of brand names: Giorgio Armani Privé, Giorgio Armani, Armani Collezioni, Emporio Armani, AJ | Armani Jeans, A/X Armani Exchange, Armani Junior, Armani Baby and Armani Casa. The Armani Group has also announced its intention to open a unique collection of luxury hotels and resorts in the world's most important cities and destinations.

The mobile phone
In 2007 Giorgio Armani and Samsung Electronics started a cooperation for a luxury mobile phone which was presented at a press briefing in his Armani/Teatro in Milan in Sept 2007 before his Spring Summer 2008 Women's fashion show. An innovative range of portable and home consumer electronics products will follow.
"Today fashion has expanded to encompass our way of life, not just how we dress, but how we design our home, the hotels we stay in, the car we drive and the technology we buy. In fact, we make as much of a personal statement with the mobile phones that we carry or the televisions we have in our living rooms as we do with the shoes and bags we wear or the furnishings we chose to place in our homes.
These are all lifestyle decisions, where design and performance are the criteria. Samsung has successfully anticipated the growing role for consumer electronics in our lives, while recognized the importance of self-expression in the development of its products." Giorgio Armani, President and Chief Executive Officer of Giorgio Armani S.p.A.
The name of one of the newest mobile phones by Giorgio Armani and Samsung is "Night Effect" in mystical design with neon glam; available since late 2008 www.samsung.com.

Video: Giorgio Armani Spring/Summer 2009 by youtube.com/user/ErichBen
fig.: Giorgio Armani Eyewear Spring/Summer 2009. The sunglasses for her (GA 657/S) in black lacquer with the Giorgio Armani monogram discreetly silk screened on the right-hand lens ...