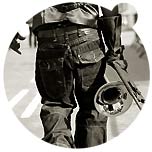 G-STAR
presents '3301 RECORDS'
VOLUME 1
spring/summer 2009


UNKLE, Vinnie Pauleone & The Ba Da Bing Orchestra... music from the G-Star catwalks and events

In January 2009 Amsterdam headquartered G-Star launched a new 'Raw Experiment' under the title '3301 Records'. It will give you insight into the world of G-Star from another angle: the music that has provided the heartbeat to the shows and events can be listened on a record.
"At G-Star, it has always been Raw Music that has provided the heartbeat to our shows and events; that has propelled our models down the catwalk and quickened the pulses of our audience; that has provided the soundtrack to our story. Music has always been in our DNA. Now it's time to let others listen in."
3301 Records is made for an international audience. You will find a mish-mash, fusion of pop and rock, electro and disco classics. Emerging talents like Hypnotic Brass Ensemble and Saul Williams as well as established artists such as Al Green and Lou Reed are mixed in a surprising way.
Check out the playlist of the Volume I with great music by UNKLE - Twilight, Vinnie Pauleone & The Ba Da Bing Orchestra - The Sopranos Theme: Woke Up This Morning... www.g-star.com


Check out G-Star spring/summer 2009, presenting a collection with lines such as the "Space Nomad" - a strongly visual led theme inspired by old astronauts' suits. Imagine Russian astronauts leaving the earth with high end equipment forty years ago and now returning with their outdated, vintage outfits... www.fashionoffice.org/collections/2008/gstar11-2008.htm