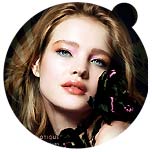 GUERLAIN
spring 2009


The Vision of Garden Eden
'Exotic Paradise' is the keyword for Guerlain's spring 2009 colorful look. The 'hymn to the glory of nature' celebrates new hopes and a carefree spirit. To express the desire of paradise creative director Olivier Échaudemaison created a colorful kaleidoscope that reflects shiny and pearly our vision of garden Eden and la joie de vivre.
fig.: Natalia Vodianova was chosen to be the new face of Guerlain.
"I was flustered and moved by Natalia's youthful gaze and the exceptional color of her pale aquamarine eyes, so I wanted to create exotic and transparent colors for a new interpretation of spring. Like a forbidden fruit, a shiny and tender mouth balances out a radiant face." Olivier Échaudemaison

Video: Creative Director Olivier Échaudemaison about applying the Guerlain Le 2 Mascara





more fashion.at/mobile>>>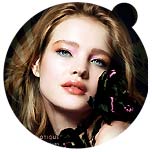 fig.: Natalia Vodianova wears on this picture

Ombre Éclat Eye Primer
The new cream-in-powder texture for the eyelid is inspired by a professional artist's secret for the perfect hold of the make-up; apply it with the brush or fingertips. It contains firming filmogen polymer that ensures 'wrinkle-free' eyes.
Ombre Éclat 4 Shades - Collector 404 Paradis Exotique
The bronze-green case with plant motifs and an elegant bird of paradise is designed by Hervé Van der Straeten. With this packaging the designers pays homage to the shiny and pearly nuances found in nature. The four color case - pink, orange, green, brown - comes out in a limited edition. The fresh colors can be used singly or mixed together in function of the desired effect and gradation of color. (Picture below)
Two-Brush Mascara Le 2 de Guerlain - 10 Noir 2 Noir

Eye Pencil 03 Khôl Me Brun
KISSKISS LIPLIFT

KISSKISS GLOSS - Collector 805 Cerise Tentation
The three paradisian and with Guerlain's signature humour named glosses are: Three Forbidden Fruits, Desperately Seeking Adam KissKiss Gloss, Forbidden Fruits For The Lips. Mouthwatering!
Parure - Compact Foundation with Crystal Pearls - 03 Beige Parfait
Météorites Perles - Light-Diffusing Perfecting Primer
Blush 4 Éclats – 04 Rosée du Printemps