Jacqueline Groag
23 October – 20 December 2009
5 December 2009 - discussion
Fashion and Textile Museum, London


Textile design of the 20ies, 30ies, 40ies
On Saturday 5th December 2009, the Fashion and Textile museum in London invites to a discussion of the life and work of the textile designer Jacqueline Groag, the historical context in which she worked and the milieu of modern design of the era on occasion of the exhibition running through 20 December 2009.The discussion will be held by the authors of the book 'Jacqueline Groag, Textile & Pattern Design: Wiener Werkstatte to American Modern', Geoffrey Rayner, Richard Chamberlain, and Annamarie Stapleton.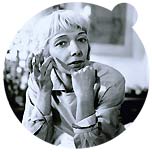 fig.: Czech born Jacqueline Groag was an influential textile designer in Britain in the post worldwar II era. She studied textile and pattern design in Austria. During the late 20ies and early 30ies, Groag designed textiles for the 'Wiener Werkstätte' in Vienna, from where she had to flee together with her husband in 1939. In the 40ies she was one of the leading designers of textiles in Britain. In 1986, Jacqueline Groag died in the age of 83 in London.

Source: Original article with images on http://www.fashionoffice.org/culture/2009/jacquelinegroag10-2009.htm.


more fashion.at/mobile>
News from
July - August 2009
May - July 2009
April - May 2009
Jan - March 2009
October - December 2008