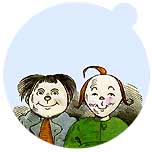 Maxxmo's Music-Tipp
Video: The humorous, folk-like "Resistance Song" by Jill Sobule, still an underground artist who is known to play for fans across the United States in personal settings. The cabaret-like 'Resistance Song' is about a waitress who dreams of being in the French resistance.
"Jill Sobule can claim her place among the stellar New York singer-songwriters of the last decade. Topical, funny and more than a little poignant...grown-up music for an adolescent age." Jon Pareles, pop music critic from the 'New York Times'.
The US singer/writer (born 1961) - she became successful for the then-controversial song 'I Kissed a Girl' and for 'Supermodel' from the soundtrack of the hit 1995 film Clueless - sings satirical about sexuality, depression, war ...
You can hear Jill Sobule on 13 + 14 Jan in London. Check out details, tracks ... last.fm/music/Jill+Sobule/.