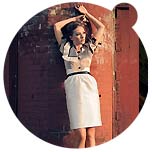 JULIANNA BASS
spring/summer 2009


Recession and Volume
New York based designer Julianna Bass (born in Tennessee, US) is inspired for her spring/summer 2009 collection by the definition of the woman in the 1950's.
"This particular character is portrayed with a strong silhouette, capable of conquering her duties outside of the home. It is almost, as if, this woman is breaking free from what is expected of her by the bold statements of her wardrobe. A bit of Victorian flair is added to create a daring expression that combines the two eras with grace and elegance."
In times of recession the volume of the clothes increases. The 50ies high waist and the focus on female attributes are back in fashion 2009.
Julianna Bass' pieces range from soft to structured; the volume comes from pleating and dramatic bows.
The designer uses surprising color combinations on cottons (especially for volumizing the shapes) and silk fabrics including satins, jacquards ... from vivid blacks to rich ivories, emeralds, lilacs, mustards and mauves.
Julianna Bass has studied design at The Fashion Institute of Technology, FIT New York. In 2007 she was a finalist in the Gen Art Styles competition. In Fall 2008 she presented her debut collection. Julianna Bass has already got international acclaim for her work. The German Vogue has portrayed her, WWD entitled her as One Of The New Designer's To Watch ...
Julianna Bass spring/summer 2009 will be available in specialty stores throughout the US www.juliannabass.com.
fig.: Julianna Bass spring/summer 2009. Photo: Bobby Kelly.