FASHIONOFFICE INSIGHT
by publisher Karin Sawetz
April 2009

"And his money
has Mack the Knife,
On whom they will
not prove anything."
Text: free translated from the German "Mack the Knife"-song of "The Threepenny Opera", by Bertold Brecht. The opera was composed by Kurt Weill, premiered in Berlin, Germany in 1928. Check out the video below.
By the end of March on occasion of the great chance world leaders have in London on 2nd April to work on strategies to lead out of the financial crisis www.g20.org, designers, artists, international labels ... are using their 'word and art power'.
"And some are in the darkness And the others in the light
But you only see those
in the light
Those in the darkness
you don't see"
Text: see above.
The denim brand G-Star supports the eight United Nations Millennium Development Goals (MDGS) to bring extreme poverty down until 2015. Visitors of the G-Star website are invited to take action and send their idea how to end poverty to world leaders... fashionoffice.org/collections/ 2009/gstar3-2009.htm

The Viennese label for design, fashion, architecture 'Liniert' presented on occasion of the international increasing awareness for the causes of the worldwide crisis a 'pinstriped collection'. In German language 'pinstriped suit' has two meanings: it means the 'banker suit" or 'jail house suit'.
fashionoffice.org/design/ 2009/liniert3-2009.htm
The Parisian couture label on aura tout vu presented a collection which make you think about a material that is produced/used worldwide and illusion makers. fashionoffice.org/design/
2009/onauratoutvu3-2009.htm
On 2nd April the Los Angeles and New York based artist collective Knifeandfork performs about the illegal, but not penalized, 'Hand of God' soccer goal from 1986 by Diego Maradona.
fashionoffice.org/culture/ 2009/knifeandfork3-2009.htm
What was and what might have been?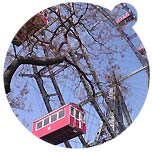 fig.: On the image you can see the 'Wiener Riesenrad' in the Viennese amusement park Prater on a beautiful sunny sunday in March 2009. The 'London Eye' looks similar! George Washington Gale Ferris, Jr. has designed the first Ferris wheel in 1893 in Chicago.
Unfortunately the entrance to the great wheel in Vienna, built to celebrate Emperor Franz Josef I's golden Jubilee in 1897, has now a new architecture which is not easy to bring not to the picture. I had to mount the wall for taking this image. The designer of the 'Wiener Riesenrad' was the Englishman Walter Bassett.
Video: 'Mack the Knife'-song from the movie 'The Threepenny Opera' (1931), directed by Georg Wilhelm Pabst, music composed by Kurt Weill, lyrics by Bertolt Brecht. The street singer is Ernst Busch.
The play about corruption focuses on two men; one is the head of a Londoner beggar mafia who blackmails the poorest and a criminal with the best connection to the police chief.
FASHIONOFFICE INSIGHT:
Sept 2009
Aug 2009
July 2009
June 2009
May 2009
Apr 2009
Mar 2009
Feb 2009
Jan 2009
Dec 2008
Nov 2008
Oct 2008
Sept 2008
Aug 2008

Karin Sawetz is journalist, media researcher and fashion scientist (Mag. Dr. phil.). > sawetz.com

Source: Original article with images and video on http://www.fashionoffice.org/survey/2009/karinsawetz4-2009.htm.


more fashion.at/mobile>
News from
July - August 2009
May - July 2009
April - May 2009
Jan - March 2009
October - December 2008