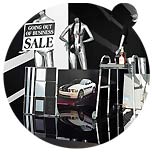 JOSEPHINE MECKSEPER
21 Feb – 3 May 2009
migros museum für gegenwartskunst Zürich, Switzerland
www.migrosmuseum.ch
Curated by Heike Munder


Advertising, politics, glamour and fashion
The exhibition presents recent political works (photography, videos and installations) arranged in glamorous sceneries that recall the window displays of department stores and expensive boutiques by the New York based artist Josephine Meckseper (born in Lilienthal/Germany, 1964) about themes such as the Iraq war, the oil industry with all their inherent economic and socio-political implications, in particular regarding the automobile industry.

"On the one hand the pop-political vocabulary of forms appears absurd in its opposing ideological effect, on the other the artist discloses references by interpolating them seamlessly in a decoratively elegant looking display." migros museum für gegenwartskunst
fig.: Josephine Meckseper 'Ten High', 2008. Plexiglas platform, 3 mannequins, collapsible walker, cane, bottle of whiskey, Bible, ash tray with cigarettes, broken mirror on wooden panel, poster mounted to aluminum, mixed media on canvas, aluminum sign, T-Shirt, tie and vomit.
350.5 x 350.5 x 350.5 cm. Courtesy of the artist und Elizabeth Dee Gallery, New York
Meckseper uses classical "icons" of our world today to make us think about our system of values.

The whiskey bottle is standing on a walker for disabled; behind, you can see a t-shirt with the saying "If you love your Freedom - Thank a Vet".

The dummy in the middle wears a tie with two crosses and bibles; the hands of the dummy are directed in a way of praying below her where you can see a car on a red carpet which mirrors from the floor.
The dummy on the left holds the board "Going Out of Business / Sale". You can find many meanings in the work of Josephine Meckseper: but don't you think that the recession signal and the veteran utensils such as the whiskey bottle and the walker express "No War" because of religion or possession?


Josephine Meckseper studied at the University of Art in Berlin and the California Institute of the Arts in Valencia. She became political active after the Golf War. Patriotism and racism (keyword: Rodney King) began to motivate her work. Josephine Meckseper's art was exhibited at the MoMA (2008 - video below), the Kunstmuseum Stuttgart (2007) or in the Whitney Biennial (2006) ...
"... Instead of aestheticizing political issues and problems, what I try to do is to challenge ingrained perspectives: for instance, habits of seeing brought about by leafing through a newspaper in which horror stories from Iraq appear side by side with underwear advertisements. These works exaggerate this mode of disseminating information and consumerism in order to expose it. ..." Josephine Meckseper.
Source: Simone Schimpf, "Im Gespräch mit Josephine Meckseper", in: Josephine Meckseper, [Catalogue for the exhibition in the Kunstmuseum Stuttgart], ed. Marion Ackermann, Ostfildern: Hatje Cantz, 2007.



Video: Curator Roxana Marcoci (Department of Photography at the MOMA, New York) about the exhibition "New Photography 2008: Josephine Meckseper and Mikhael Subotzky" where you can view Meckseper's work about power and consumerism expressed by blown up vintage catalogue pages from the 1970ies and fashion (lingerie) from the 50ies. http://moma.org/exhibitions/exhibitions.php?id=8380
Video by http://www.youtube.com/user/MoMAvideos, music courtesy of Zoe Keating http://www.zoekeating.com, © 2008 The Museum of Modern Art, New York