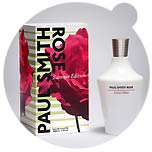 PAUL SMITH ROSE
summer 2009


Expect the Unexpected
In March 2009 UK designer Paul Smith will release a new (limited) edition of the fragrance Paul Smith Rose, launched for the first time in August 2007. The heart note comes from a rose, cultivated by the famous English botanist Peter Beales especially for the designer in 2006.
"My wife, Pauline, created a wonderful birthday gift - a rose cultivated specially for me. This proved to be an inspiration for the fragrance," says Paul Smith.
The perfumer
Three years after the rose was cultivated, perfumer Antoine Maisondieu had created a modern, airy fragrance around this rose.
The edition for summer 2009 is like a seasonal cocktail: it starts with a squeeze of lemon.
"This citrus burst delivers a real freshness to the fragrance," says Paul Smith. "It reminds me of summer drinks with lots and lots of ice."
"I also added green apple. It's juicy and clean. Nothing like red apple, which would have been too sugary. It also gives the fragrance a younger spin. ... So many old-fashioned rose perfumes are nothing like the scent of the growing rose," says Antoine Maisondieu. "With headspace technology, we capture the fragrant molecules of the flower and then make delicate adjustments so it replicates the living Paul Smith rose. But how I've used it in this summer is edition is different. It's been rebalanced, so you can fully appreciate the lemon too."
The fragrance is perfectly sexy for summer sundowns!
Video: Interviews with make up artist, hair stylist backstage, the designer, journalist... at the presentation of the Paul Smith Spring/Summer 2009 collection on 15 September 2008 during the London Fashion Week in London by style.com http://www.youtube.com/style.
Paul Smith created for this collection Arabic inspired, voluminous pieces for nature addicted, modern Hippies. Some of the dresses are made of transparent layered fabrics with artful rose prints on silk organza.
Highlight of the collection is Paul Smith's combination of a Vichy-like pattern which is called Gingham (a blue/white or yellow/white checked fabric) with the very light appearing garden rose for a dress á la paysan; just like fresh from the garden!
On Wikipedia http://en.wikipedia.org/wiki/Gingham you can read that Gingham is often used like muslin as a test fabric while designing fashion. Probably it is the roughness of the Gingham pattern and the delicacy of the rose that makes this dress so fascinating.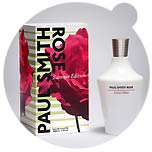 The unexpected design of the bottle
Paul Smith's signature 'unexpected' design - such as the combination of contrasts for the highlight from the collection spring/summer 2009 - can be found in the bottle of the fragrance again:
"We wanted to turn the typical presentation of a rose fragrance on its head," declares Creative Director, Alan Aboud. "To contrast with the petal-lightness of the fragrance, we designed a heavy glass bottle with a strong, functional shape. The thick, deep bottom fills the hand with reassuring weight - the juice then appears to float inside like a teardrop. ... It's topped off with an art deco inspired metal cap that feels quite industrial – almost masculine – in nature and each one is individually tooled, adding to a genuine feeling of craftsmanship. There's certainly nothing 'disposable' about this bottle."
On Paul Smith's website you can find extensive information about the label, the collections, an online shop, music downloads, news from February 2009 such as the designers T-shirt for the War Child Charity, or Shakespeare print T-Shirts featuring the classic Shakespearian characters of Yorick, Oberon and Mercutio... paulsmith.co.uk/.


more fashion.at/mobile>>>