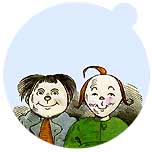 Maxxmo's Music-Tipp
Video: "I Know Kung Fu" by the UK (Glasgow, Scotland) disco-house/punk band Shitdisco from the debut album 'Kingdom of Fear' (released in 2007 on Fierce Panda Records).
In 2003 they met while studying at the Glasgow School of Art. The band members are Joel Stone (Bass, Guitar, Vocals), Joe Reeves (Bass, Guitar, Vocals), Jan Lee (Bass, Keyboards, Backing Vocals - Jan Lee has left the band in 2008 to concentrate on his career as an illustrator), Darren Cullen (Drums).
The band is known for organising and playing free parties and raves on streets, abandoned railway tunnels, club toilets... Shitdisco is on tour: 17 Jan Portugal, 24 Jan Japan, 27 February United Kingdom ... Check out details, videos, tracks ... last.fm/music/Shitdisco.