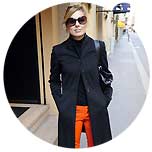 Guide to the
Most Stylish Cities
by Catherine Yan,
fashion editor of www.coolhunt.net



| | |
| --- | --- |
| City: | Milan, Italy |
| Trend: | Black with a Splash of Color |
| Season: | Winter 2008/9 |



Wearing all black may be the standard in Paris and New York, but not in Milan.

A main piece of the outfit, such as a dress, coat, or trousers, in a solid bright color takes an otherwise drab ensemble to the next level. Black no longer has to be boring.

During the day, bright jewelry and accessories—scarves, handbags, or belts—with a black cardigan is the perfect option to look casually stylish.

For the more sophisticated evenings, a jewel-toned dress in emerald green or deep purple looks best when paired with a sleek black blazer or coat.

Therefore, there are many ways to wear this trend and experimenting with different colorful pieces is the key.



fig.: Streetphoto taken in Milan. Photo by coolhunt.net.

Catherine Yan is currently living in Los Angeles, but is inspired by trends from all around the world. She is the Fashion Editor for Cool Hunt, which was founded 2000 and features trends from more than ten different cities world wide for international and local on- and offline magazines.