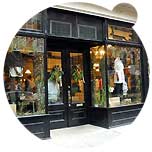 Guide to the
Most Stylish Cities
by Catherine Yan,
fashion editor of www.coolhunt.net



| | |
| --- | --- |
| City: | New York, US |
| Store: | Rag & Bone |
| Season: | Winter 2008/9 |



Marcus Wainwright and David Neville, young designers of the fresh and modern label Rag & Bone, recently opened their first store in the bohemian bourgeois West Village district of New York.

The duo originally started their line by designing men's denim in 2002 but soon expanded into classic sportswear collections for men and women in 2005.

The exterior of the boutique store holds to the rustic aesthetic of Rag & Bone, with imperfect, yet inviting, chocolate brown wood framing.

Once inside, the shop has a sense of authenticity, as it is decorated with antique furniture and décor that suit the clothes so well.

The selection of simple shirts, jeans, motorcycle jackets, dressy tops, and aerial dresses are both British-inspired and impeccably tailored. The colors are very earthy and a bit romantic with a timeless elegance. Overall, each piece is beautifully constructed with quality fabrics and is distinctive in a tailored and wearable style.



fig.: The exterior of the boutique store. Photo by coolhunt.net.

Rag & Bone
104 Christopher Street
New York, New York 10014
www.rag-bone.com


Catherine Yan is currently living in Los Angeles, but is inspired by trends from all around the world. She is the Fashion Editor for Cool Hunt, which was founded 2000 and features trends from more than ten different cities world wide for international and local on- and offline magazines.