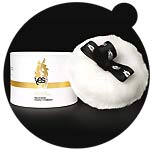 YESforLOV
spring 2009


'Love' is in the center of the new sexual revolution
'Cosmétiques du plaisir' is the title of the new trend for elegant erotic-products. Never thought erotic can be elegant? A new sexual revolution is on going; not so loud like in the 60ies, but more elegant, discrete and frivolous. To experience 'love' is in the center of the revolution which is accompanied by products like flavorish (vanilla or cherry) washable body makers which allow drawing arrows to offer directions, or surprise your lover and declare your feelings...
YESforLOV, the French based label, names three main desires of today's women and men:
"The search for fulfilled sexuality"
"The return of elegant eroticism"
"The discovery of paths that lead to your partner's pleasure"
Where did the idea come from?

"During a conversation with friends, I was struck by couple's lack of imagination when it came to spicing up their love life. This observation made me want to pull the French from their sexual stagnancy and help them free their imagination. I wanted to create a brand that would be a source of ideas and inspiration. To become a contemporary cupid, including pleasure in daily well-being and restoring desire for one's partner and a certain playfulness, creativity and intimacy in the act," explains Christian Palix, the creator of YESforLOV. Palix has presented the new products for the first time in October 2007 at the Beyond Beauty trade show, where YESforLOV won the Beauty Challenger Award from amongst 60 other beauty concepts.
Today, Christian Palix delivers YESforLOV "pleasure" kits for the nightstands of bedrooms in 4- and 5-star luxury hotels thanks to an agreement signed with the GM group. YESforLOV is available in France since April 2008 in selective perfume shops, department stores, concept stores and on the yesforlov.com website. The worldwide presence is planned for 2009; in February 2009 seen in Vienna at marionnaud.at ....
fig.: The pearly powder can be used between your breasts, on the tip of your shoulder, on your forearms. Or there… on your tibias or neck of the foot, under your navel or on the hollow of your back.

The packaging Christian Palix' aim was to break away from the traditional visual codes of the packaging for 'erotic-'products. Glamour, luxury and love should be expressed. Therefore he engaged brand designer Philippe Di Méo and his RESO Design agency. The agency has developed creations for prestigious brands, such as Moët&Chandon, Jean-Paul Gaultier fragrances and, more recently, Swarovski or the glamorous Cannes Film Festival.
Philippe Di Méo has visualized the poetry, modernity and free character of YESforLOV with the minimal packaging, a sculptural envelope in gold and white. The logo: freed from all taboos, while remaining elegant, it features a circle of stylised bodies that enlace and intertwine...