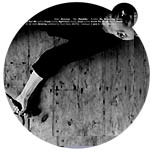 ZEROCROP
Maxxmo's Music Tip
Melodious songs about sex, love, hate
Recently, Fashionistas had the chance to enjoy Zerocrop's sound design at J Smith Esquire's FW09 installation show on 21st February 2009 in London.

The Londoner musician is releasing his albums through zerocrop.com since 2000.
Tobacco and leather - this is the taste of Zerocrop's ballads. In 2004 he has released the album 'Fucked' with songs about adventures into the dark rooms of our soul, desire and dreams.
The new album 'Painkiller' (released 18 Aug 2008) with titles such as 'Ugly', 'Don't Hurt Me', 'Evil'... about narcissism, selfharm and love, hate, anti–war–crimes is still sexy but got a political touch.
On zerocrop.com the album is described as "the darkest Zerocrop album to date": on the Guantanamo Bay–inspired track 'Inside The Prison' you can hear a Spanish voice from the Venezuelan artist Oscar Henriquez; on 'Evil' a murderous telephone voice barking an awful warning...
Check out tracks, more information http://www.zerocrop.com