Jean-Christian Bourcart
Short-listed for the 2010 BMW–Paris Photo Prize 'Electric Vision'
18 - 21 November 2010
Paris Photo 2010
Carrousel du Louvre
A photographer's 'Electric Vision' and a car

On 17 November 2010, the BMW-Paris Photo prize will be awarded to one of 20 photographers at the opening of this year's Paris Photo, which runs from 18 to 21 November.
One of the short-listed photographers is the French born (1960) in Brooklyn, New York (since 1997) living Jean-Christian Bourcart, whose gallery has submitted the image 'Stardust #73' that shows an electric glow around a person.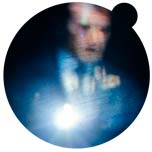 fig. original: 'Stardust #73' by Jean-Christian Bourcart, 2010. Courtesy of Vu' La Galerie, Paris.
The photographers for the BMW-Paris Photo prize had been selected by an international jury consisting of specialists from practise, research, and curating like German photographer F.C. Gundlach, researcher Michel Frizot (history of photography at the Université Paris IV-Sorbonne and at the Ecole du Louvre), or Joanna Mytkowska, who has been the director of the Warsaw Museum of Modern Art and curator at the Centre Pompidou, to name three.
On his website, Jean-Christian Bourcart describes the genesis of the 'Stardust New York' series from 2005-2006: "In my neighborhood, just behind the void of the World Trade Center, there is a multiplex theater where I go early in the morning. There, in the empty screening rooms, I photograph the little window that separates the projection cabin from the public space..." jcbourcart.com/p.php?p=pages/01-Photography/02-stardust#48-.jpg
By searching further on his website, the last entry for photographs is entitled 'The People Yes'. It shows people in different cities - Paris, New York, Phnom Penh, Shanghai. Jean-Christian Bourcart accompanies this series with a text that brings the sensitive thoughts of the image taker to words: "Through physical appearance, clothing, body language, etc, we can appreciate the diversity of the world population but also the effects of globalization. For better and worse, the world is going to be more and more crowded." jcbourcart.com/p.php?p=pages/01-Photography/00-The_People_Yes

Source: Original article with image on http://www.fashionoffice.org/culture/2010/bourcart10-2010.htm.


more fashion.at/mobile>
News from
October 2010
September 2010
August 2010
July 2010
June 2010
May 2010
April 2010
March - April 2010
January - March 2010


subscribe
terms
imprint
Sawetz (C) 2008/9/10