GLOBAL VIEW
summer 2010
Design, art, photography that provide a global view
For summer 2010, several releases were sent to Fashionoffice that provide a global view on our world. This article presents three selected exhibitions and art events that have one in common: they are about style.


Street fashion photos On 5th July 2010, the NRW-Forum in Düsseldorf (Germany) has sent an invitation for the opening of the exhibition 'StyleclickerCity. People of the 21st century' on 24 July. The invitation came as a folded poster with the man with bowler hat (image on this page) on the front.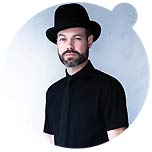 fig.: Styleclicker City (C) Gunnar Hämmerle.

Styleclicker is the blog (www.styleclicker.net) about street fashion from Stockholm, Berlin, New York, Paris, London, etc. by Gunnar Hämmerle (born to a Swedish mother and a German father), who started his website in 2006 while studying film in Munich. In 2008, the blog was honored with the Musikexpress Style Award. In early 2008, Styleclicker won the Streetclash competition, which ran during Berlin Fashion Week. The exhibition of approximately 1,000 blog shots of 'people of the 21st century' from the last three years by Gunnar Hämmerle runs from 25 July to 8 August 2010 at the NRW-Forum in Düsseldorf.


Fashion design In early July 2010, Fashionoffice received an invitation from the Italian men's wear label 'Stone Island' (belongs to Sportswear Company) to the presentation of the 'Shadow Project'-collection by Errolson Hugh (from the design team Acronym) during the Berlin Fashion Week on 8 July beginning at 20.00 at the high end streetwear store 'Firmament' with a film by Ken-Tonio Yamamoto. Sportswear Company owner Carlo Rivetti writes on the website of Stone Island about his thoughts in 2008:"...I came to the conclusion that the era of 'one man at the helm' was over. I understood that times had changed radically and that it was necessary to be multicultural in order to be truly contemporary. ... As a result, we need people that travel the world and observe it from different viewpoints: people of different ages and from different cultures."
On its website, Stone Island publishes a video preview FW2010/11.


Art and cooking Artist Rirkrit Tiravanija was born to Thai parents in Buenos Aires 1963, grew up in Argentina, Bangkok, Ethiopia, and Canada, and has studied art in New York and Chicago. He sees himself as a 'global artist', which is reflected even in his recipes. By searching for cultural identity, he connects different cultures through his meals. So it's not only about the community aspect (conversation) but also about recipes when Rirkrit Tiravanija's cooking/dininig installations are exhibited. Tirvanija made pad thai in a New York gallery in 1990; pancake soup at the Hamburg Kunstverein in 1993, and in Ludwigsburg in 1994, he made potato dumplings spiced with Asian chili.
Video: The video shows the 'interactive' work by Rirkrit Tiravanija who produces art installations like cooking and dining environments to make the visitors aware of the central function of art: communication and exchange.
The Kunsthalle Bielefeld invites from 11 July to 10 October 2010 on occasion of the exhibition 'Rirkrit Tiravanija: Just Smile and Don't Talk' not only to view the artist's installations from the past twenty years with focus on global communication and exchange; at the 'temporary cuisine', visitors can enjoy freshly prepared 'art'-meals every Wednesday and Sunday. The artist's recipes will be released as a numbered cooking book.

Source: Original article with images on http://www.fashionoffice.org/foto/2010/globalview7-2010.htm.


more fashion.at/mobile>
News from
May 2010
April 2010
March - April 2010
January - March 2010
December 2009 - January 2010
December 2009
November - December 2009
September - October 2009
July - August 2009
May - July 2009
April - May 2009
Jan - March 2009
October - December 2008


subscribe
terms
imprint
Sawetz (C) 2008/9/10