Ion Fiz
spring/summer 2011
'Love at first sight'
In September 2010, Basque designer Ion Fiz and his French confectionary inspired candy colored 'Love at first sight' SS2011 collection got the attention of Fashionoffice. He is one of the most interesting designers of the Cibeles Madrid Fashion Week which ran from 17 to 22 September 2010.
fig. original: Ion Fiz SS2011 on 18 Sept 2010 at Cibeles Madrid Fashion Week. On the photo you can see pants made of rosé silky drapery with handmade-looking knit top, a bag from Ion Fiz' debut SS2011 collection of shoes, handbags and belts for Fosco, as well as sunglasses designed by Ion Fiz.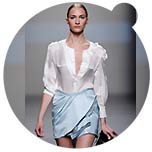 fig. original: One of his signatures is the 'geometria-asimetrica' structure of his design. He works like a mathematician who tries to find a new formula for calculating perspective. He is breaking the common forms to evoke the impression of volume.
Ion Fiz says about the inspiration for the haute-patisserie pastel colored with creamy-a-like drapery 'Love at first sight' SS2011 collection: "It happened when I came face to face with the haute patisserie miracle that the entire world has learned to pronounce with due sensuality: Macaroon. I became a staunch supporter after the first bite.
The voluptuousness of its shapes and the delicacy of its pastel shades seduced me to the extent that the most aristocratic of confectionery pieces became the inspiration for this collection, perhaps because I myself am living a moment as sweet as that of such a whimsical object of delight."
Ion Fiz is one of the most renowned names of the country's fashion scene and is an 'enfant terrible of Spanish fashion'. Ion Fiz graduated from the Basque Fashion College before he launched his first men's and women's prêt-à-porter collections in 2002. He received already in the same year the 'Prix de la Mode Marie Claire' and the FAD Award for the Best New Designer; in 2004 the 'L'Oréal Paris Cibeles' award for the Best Collection.
Video: Ion Fiz SS2011; catwalk presentation on 18 September 2010 during the Cibeles Madrid Fashion Week (17 - 22 Sept).


Source: Original article with images and video on http://www.confashion.com/ss2011/ionfiz9-2010.htm.


more fashion.at/mobile>
News from
August 2010
July 2010
June 2010
May 2010
April 2010
March - April 2010
January - March 2010
December 2009 - January 2010
December 2009
November - December 2009
September - October 2009
July - August 2009
May - July 2009
April - May 2009
Jan - March 2009
October - December 2008


subscribe
terms
imprint
Sawetz (C) 2008/9/10