Ivana Helsinki
spring/summer 2011
Where The F*ck is My Sailor?
...is the title of the SS2011 collection of playful female dresses with anchor prints, maritime stripes and coastal flowers by the Finnish, for some time in New York, now in Los Angeles based design label Ivana Helsinki by Paola Ivana Suhonen who says:
"I could easily spend my life as a gypsy or a vagabond; love stones, road trips, strong living.. .but its okay too, to make cute cotton and woollen dresses for charismatic drummer girls and girl women with beautiful souls. They are the girls who love moonlit fields, pirates, dark vast forests, crummy motels, a champagne state of drunkenness, fragile butterflies, lullabies and guardian angels.. ."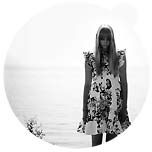 Think of white arctic summer nights, the isolation of Nordic winters when you watch the video from the catwalk in New York on this page. The anchor motifs on the 60s styled pieces of the 'Where The F*ck is My Sailor?' SS2011 collection are inspired by old-school Sailor tattoo designs.
Video: Ivana Helsinki SS2011; catwalk presentation on 16 September 2010 at the Lincoln Center during Mercedes-Benz New York Fashion Week.

Source: Original article with image and video on http://www.confashion.com/ss2011/ivanahelsinki9-2010.htm.


more fashion.at/mobile>
News from
August 2010
July 2010
June 2010
May 2010
April 2010
March - April 2010
January - March 2010
December 2009 - January 2010
December 2009
November - December 2009
September - October 2009
July - August 2009
May - July 2009
April - May 2009
Jan - March 2009
October - December 2008


subscribe
terms
imprint
Sawetz (C) 2008/9/10