MEN STYLE
spring/summer 2010
fall/winter 2010/11
art by Niki de Saint Phalle
fashion by Tom Ford, Levi's, Bruno Banani, Lacoste, Rado
interior by Diesel with Foscarini
motor by Honda
Men, love, and motors
The ideas of love and freedom have guided this men's style.
The collected pieces start with the 'Portrait of my Lover' by French artist Niki de Saint Phalle who used an image of her friend as a target and the movie 'A Single Man' directed by Tom Ford, which is about a man who suffers from living without his friend.
The freedom items on this page are strongly inspired by work and motorcycling.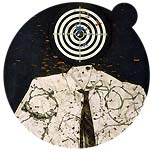 fig.: original beginning with the artwork...
'Saint Sebastien or Portrait of my Lover' by Niki de Saint Phalle, 1961. Photo: Michael Herling/Aline Gwose 8C) N.C.A.F. – Donation Niki de SAINT PHALLE Sprengel Museum Hannover / VBK, Wien, 2010.
The French artists (born 1930 in Paris, died 2002 in California) is internationally renown especially for her colorful garden figures called 'Nanas'. She has arranged for the art work on this page a target, arrows, a skirt with tie on wood (100 x 74 x 15 cm). It is said that she has thought of her lover...
From 21 May until 26 September 2010 one of Austria's most active private collectors will present objects, sculptures, and 'shooting paintings' from Niki de Saint Phalle under the title 'Garden of Fantasy' at the Essl Museum nearby Vienna. Before Niki de Saint Phalle created the humorous garden figures called 'Nanas', she worked on the representation of women and their roles. The 'shooting pictures' had been created in the beginning of her career.
50s style inspired TF5151 optical frame by Tom Ford, fall 2010.
Video (trailer): 'A Single Man' directed by Tom Ford. Austin, Texas born Tom Ford, began his fashion career 1994 as creative director of Gucci, in 2000 he started to direct the label Yves Saint Laurent (belongs to the Gucci Group). In April 2005, he launched his own label Tom Ford. Recently, his movie 'A Single Man' (2009) showing 60s style in costumes and images has received several awards. 'A Single Man' was directed, produced and co-written by Tom Ford, featuring Colin Firth, Julianne Moore. The movie is about an English professor in Los Angeles who suffers from the death of his friend.
Black lamp 'Tool' by Diesel with Foscarini, 2010. The lamp is from the 'Successful Living' collection of furniture, lightings, textiles which premiered during the Salone del Mobile from 14 to 19 April 2010 in Milan. The pieces from the 'Tool' collection are following Diesel's rock and work style. The vintage lamp on this page remembers the atmosphere of a garage. Diesel calls it 'inspired by an industrial archaeology'. The lamp 'Tool' got its name from the tools that are used in garages. The lightning tool is made of black rubber.
'Sumatra' underwear in anthracite and black with a pink detail by Bruno Banani, fall/winter 2010/11.
Levi's 201 from the 'Product With Roots Edition', SS2010. Photo: (C) Andreas Achmann www.andreas-achmann.com.
Levi's has updated the historical '201' one pocket jeans, which was more than 100 years ago one of the first workwear-products of the label. The jeans with a lower price (one pocket, simple denim) than the 501 had been especially designed for workers in California. Today, the 201 has high-quality denim - but still one pocket on the back.
Flat cap in dark denim look by Lacoste, SS2010.
Sintra Skeleton Automatic by Rado (limited edition of 111 pieces) premiered at Basel in spring 2010. The movement of the watch is highlighted with gold.
Honda Cruiser VT750S in metallic dark grey was launched in November 2009 as Shadow RS; available since April 2010. Photo: (C) 2010 Fran Kuhn Productions.


Source: Original article with video and images on http://www.fashionoffice.org/culture/2010/menstyle5-2010.htm.


more fashion.at/mobile>
News from
March - April 2010
January - March 2010
December 2009 - January 2010
December 2009
November - December 2009
September - October 2009
July - August 2009
May - July 2009
April - May 2009
Jan - March 2009
October - December 2008


subscribe
terms
imprint
Sawetz (C) 2008/9/10