NOUVEL-TOWER
in Vienna
Opening of the hotel 'Sofitel Vienna Stephansdom'
14 December 2010
A new hotel that 'breathes'
On 14 December 2010, the 5-stars hotel 'Sofitel Vienna Stephansdom' in the new 18 floors tower by the French architect Jean Nouvel with integrated artworks by Pipilotti Rist, Patrick Blanc, Alain Bony and Henri Laboile will open.
Jean Nouvel constructed the building like a compass: the glass facade to the South is colored in grey, to the East in mirroring white, to the West the facade is glossy black, and to the North, the Nouvel-Tower reflects the surrounding on transparent material with various profiles. The different colors, materials, and angles of the walls evoke the impression that the building changes its look with the weather and the lighting the whole day through.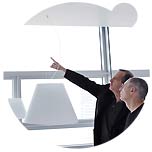 fig. original: Alain Bony (left) and Henri Laboile have designed the interior decorations for the walls of the 182 rooms of the hotel Sofitel Vienna Stephansdom. Each of the rooms follows the concept of Jean Nouvel, who lets the color from the outside float into the inside of the hotel. On the pictures you can see a white room with view to the East. The decorations had been added by students of the University of Applied Arts Vienna for each room individually. Photo: (C) UNIQA/Rigaud (peterrigaud.com)
The design concept of the Nouvel-Tower is continued by Pipilotti Rist's colorful large-scale light/video LED-screens for the ceilings of the hotel entry, foyer, the winter garden and restaurant as well as Patrick Blanc's 'Green Wall' that is made of a planted vertical garden-installation over 5 floors. The artworks visualize the intention of the building owner (Uniqa Group) to put up a tower which breathes eco-consciousness and interactivity like it was realized with 'green' techniques such as a solar system and an efficient energy management that interacts with the guests inside as well as weather and lighting conditions outside.

Source: Original article with images on http://www.fashionoffice.org/interior/2010/nouveltower12-2010.htm.


more fashion.at/mobile>
News from
November 2010
October 2010
September 2010
August 2010
July 2010
June 2010
May 2010
April 2010
March - April 2010
January - March 2010


subscribe
terms
imprint
Sawetz (C) 2008/9/10