PATTERN ID
23 January – 9 May 2010
Akron Art Museum, Ohio, US
Found fashion objects transformed into art
The blankets made of NFL Jersey (jersey shirts with numbers and writings like they are worn from the US National Football League) by the keyfigure of Vancouver's art movement, the Swiss-Canadian/Native American artist Brian Jungen (born 1970 in British Columbia), are part of the exhibition 'Pattern ID', subtitled 'Artists Fashion their Global Identities' which runs from 23 January until 9 May 2010 at the Akron Art Museum in Ohio, USA.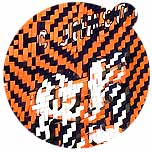 fig.: 'Blanket no. 4' by Brian Jungen, 2008. Hand-woven professional sports jerseys, 51 1/2 x 51 1/4 in., Courtesy of the artist and Casey Kaplan, New York.

Canadian art on sport ceremonies

Brian Jungen's work express the artist's cultural influences such as represented in the blanket on this page made of NFL Jersey: he links the tradition of the Native American, Dane-zaa Nation (territory around the Peace River in Alberta and British Columbia, Canada) with behaviors of professional sports teams and their fans by transforming 'found objects' into Native American art. Already in 1999, Jungen has worked with products from the sportswear industry. The sculpture 'Prototype for New Understanding #8' was made of a Nike Air Jordan shoe and human hair; it looks like a Native American 'Nike mask'. In September 2009, Megan Gambino wrote at the Smithsonian magazine: "Jungen gravitates toward such items because he's interested in the way professional sports fill the need for ceremony within the larger culture of society."
The Akron Art Museum presents paintings, sculptures, multimedia, etc. from artists from around the world such as Takashi Murakami (b. 1962, Tokyo) who transforms the Louis Vuitton pattern with bright colors and Japanese forms, Yinka Shonibare MBE (b. 1962, London) who creates Victorian costumes made of Dutch wax rich illustrated cotton, which is widely associated with West African culture for his Africa-Europe identity play, or the Moroccan in US living female artist Lalla Essaydi (b. 1955, Morocco) who overprints the photographs of veiled women with calligraphy (male practice in Islamic culture) made of henna (female tradition) to make the women symbolically 'speaking'.
Ellen Rudolph, the museum's curator of exhibitions and essayist of the accompanying 80-pages catalogue, says: "The artists use pattern and dress to take up the 21st century challenge of locating one's place in society against the backdrop of globalization. Many of the artists in the exhibition have migrated from one culture to another, be it national, ethnic, racial, socioeconomic, political or religious. Rather than trade one identity for another, the artists in Pattern ID reveal ways in which identity can be cumulative."

Source: Original article with images on http://www.fashionoffice.org/culture/2010/patternid2-2010.htm.


more fashion.at/mobile>
News from
December 2009
November - December 2009
September - October 2009
July - August 2009
May - July 2009
April - May 2009
Jan - March 2009
October - December 2008


subscribe
terms
imprint
Sawetz (C) 2008/9/10