WINTER STYLE
fall/winter 2010/11

fashion by Skiny, BMW Mini, Frankie's Garage, Ciro, Roeckl
beauty by MAC Cosmetics
Explore!
In October 2010, Fashionoffice has received many press releases with tips for making the winter days more comfortable; but no strict style advices for women.
You have to explore your own style; mix what you like!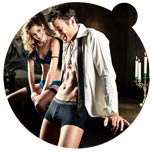 fig. original:
Woman in dark blue 'Opium' bra and slip, man in black 'Explore' pant by Skiny, FW2010/11.
'Opium' underwear set in dark blue by Skiny, FW2010/11
'Beauties Play It Cool Eye Shadows' from the 'Tartan Tale' collection by MAC Cosmetics; limited to November and December 2010. The 'Tartan Tale' collection is inspired by Johnny Rotten and the Sex Pistols.
Dark grey hooded duffle coat in 1950s inspired style with blue and red checked lining by BMW Mini, seen in FW2010/11 at the Mini shop online.
Shoulder bag from the 'Dakotahouse Collection' by Frankie's Garage, FW2010/11. The bag is an homage to the 'Dakota' apartment house at the Central Park in Manhattan, New York, where Judy Garland, Leonard Bernstein and John Lennon lived.
Bracelet with blue and violet stones by Ciro, FW2010/11. Photo: (C) Ciro.
Black leather gloves by Roeckl, FW2010/11; for the ones who prefer the androgynous dandy style.

Source: Original article with images on http://www.fashionoffice.org/collections/2010/winterstyle10-2010.htm.


more fashion.at/mobile>
News from
September 2010
August 2010
July 2010
June 2010
May 2010
April 2010
March - April 2010
January - March 2010
December 2009 - January 2010
December 2009
November - December 2009
September - October 2009
July - August 2009
May - July 2009
April - May 2009
Jan - March 2009
October - December 2008


subscribe
terms
imprint
Sawetz (C) 2008/9/10