WOMEN STYLE
fall/winter 2010/11
fashion by LUST, Intimissimi, Gant, Dsquared2, G-Star
beauty by Clinique
Campus fashion

Summer is over and the next semester at the university starts. Fashionoffice has collected some pieces for the 'Campus Style'.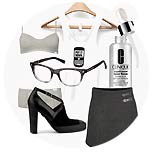 fig. original:
Tank top for women from the LUST collection, 2010. LUST is the abbreviation for 'Look Up Stop Texting'. It was started by Cat Greenleaf, who is in her main profession interviewing celebs and newsmakers at her own show at NBC. With the purchase of clothing and accessories LUST supports awareness programs for the real world behind PDAs and beyond the virtual world.
This fall, 'The Common Ground Foundation' by hip-hop artist, actor, and author Common will benefit from the LUST initiative.
"A key element is communicating well. Kids who constantly communicate via text message instead of talking might be missing out on the ability to express themselves in person," argument the initiators their work with young people which makes them more assure and refined on self-representation.
LUST products are available virtually on lustbklyn.com and in the real world in shops like Zero Minus Plus, which belongs to Fred Segal in Santa Monica. The shop offers good looking design pieces with a meaning - like the LUST shirt. On 16 September 2010, the launch party of LUST will happen at Fred Segal in Santa Monica.
Bra and panty in sportive grey by Intimissimi, FW2010/11.
5017 is the vintage inspired unisex eyewear in university campus style by Dsquared2, FW2010/11. This is the first eyewear collection for corrective lenses by the self-defined 'born in Canada, made in Italy' Canadian twin brothers Dean and Dan Caten. The FW2010/11 eyewear collection presents alongside to 5 models for women and 9 for men, even 5 unisex models. Last year, Dsquared2 has launched the first sun glasses collection (Fashionoffice article 'Eyewear inspired by the 70's hip-hop culture').
Skirt 'Georgetown' by Gant, FW2010/11. Georgetown in Washington DC, where the White House is located, is the inspiring source of the new Gant collection. The pieces are a mix of American chic and European elegance.
'Repairwear Laser Focus' by Clinique, launch in fall 2010. The new product is developed to repair sun damages and to stimulate the collagen production of the skin.
High-heel 'Danton - Spierre' in black leather and suede from the footwear collection by G-Star, FW2010/11.



Source: Original article with images on http://www.beautyme.com/skin/2010/womenstyle9-2010.htm.


more fashion.at/mobile>
News from
August 2010
July 2010
June 2010
May 2010
April 2010
March - April 2010
January - March 2010
December 2009 - January 2010
December 2009
November - December 2009
September - October 2009
July - August 2009
May - July 2009
April - May 2009
Jan - March 2009
October - December 2008


subscribe
terms
imprint
Sawetz (C) 2008/9/10