POOL STYLE
spring/summer 2011

spa at my lake hotel
t-shirt by Zimtstern
boardie by Rip Curl
sun protection by Piz Buin
skin care by Neutrogena
watch by Lacoste
cookies by Oreo

Outfit for a pool in the European Alps

Fashionoffice has packed some fashion, beauty and culinary pieces for a pool surrounded by the Alps on occasion of the Lake's Fashion Days 2011 from 11 to 15 May at the my lake hotel & spa at the Wörthersee in Pörtschach (Austria), where over 40 designer from Germany, Italy, Slovenia, etc will present their collections.

Carl-Peter Echtermeijer, Assistant General Manager of the hotel, had the idea to organise Fashion Days at the Wörthersee already in 2009 when he saw the building plans of the hotel (opened in April 2010) for the first time. Together with his team, he created a concept that incorporates into the presentation of fashion the experience of the lake's nature, the surrounding Alps and the architecture of the hotel.

"....we do welcome all guests that do like fashion, would like to see a specific show, buy a collection piece or just would like to become a 'fashionista'," invites Carl-Peter Echtermeijer to fashiondays.mylakehotel.com, where a detailed program and information about the designers are published.

The Lake's Fashion Days will open with the show 'Divas & Dandies' by the labels 'Tiberius' and 'ep_anoui'.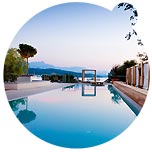 fig. original:

View on the outside pool of the my lake hotel & spa at the Wörthersee in Pörtschach, Carinthia (Austria). Photo: (C) 2010 Werner Krug, derkrug.at.

Sky blue t-shirt 'Roy' by Zimtstern, SS2011. The t-shirt by the boardsports label (awarded with the Eco Responsibility Award by ispo in 2009 and 2011) is made of organic cotton with comic print which looks like a weather puzzle with snowy Alps surrounded by a rainy and a sunny cloud.

Flowerish 'Island Paradise' boardie by Rip Curl, seen in May 2011 at the Vienna headquartered online shop hangloose.com which is specialised in boardsports. Photo: (C) Rip Curl. Robert Schönwetter, founder of Hangloose.com, opened a 'secure' online shop after his offline shop in Vienna on the Favoritenstrasse 28 - founded 18 years before in 1993, was 'hacked' four times.

Watch by Lacoste with blue/white striped wrist band, water resistant to 50 metres; premiered at the Baselworld 2011 in March.

Visibly Clear Pink Grapefruit Daily Wash Cream for oily skin by Neutrogena, premiered in early 2011. Photo: (C) Neutrogena.

Ultra Light sun spray (SPF 30) by Piz Buin, launched in 2011.

Black cookies made of chocolate and vanilla cream by Oreo, seen in May 2011. Photo: (C) Kraft Foods. The black color of the cookies (has fans in more than 100 countries) comes from roasted chocolate beans; the Oreo cookies premiered in 1912.

Source: Original article with images on http://www.fashionoffice.org/collections/2011/alpsandsea5-2011.htm.


more fashion.at/mobile>

News from
April 2011
March 2011
February 2011
January 2011

subscribe
terms
imprint

Sawetz (C) 2008/9/10